Conor Simpson, Canberra Irish dancer, is in Lord of the Dance
​
Conor Simpson, who grew up in Canberra, is one of two Australians to join the cast on this tour of Lord of the Dance. The 21-year-old is eminently qualified to do so: this year he became the world Irish Dance Champion in his age group, having begun dancing when he was nine.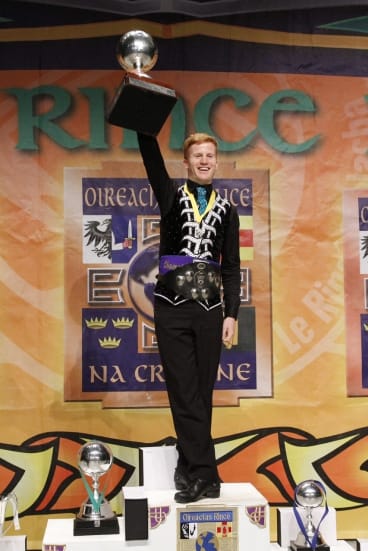 But it might not have turned out that way. Although his mother, Monica Simpson, ran an Irish dance school, the Simpson Academy, he wasn't always interested in dance.
"I first started dancing because my mum and sister would bribe me with lollies and bubble gum," he says. "I wasn't
a 'Billy Elliot' that always wanted to dance, I was
more interested in soccer and football."
But when he began, the former Marist College student took to it quickly and won the ACT Championships and the National Championships seven times each and travelled to Belfast in his gap year to train and compete. He also placedthird at the World Championships and second at the North American Championships before his World victory this year in Montreal.
All this brought him to the attention of the producers of Lord of the Dance and he was contacted in mid-September and flown to Hobart to audition with another man.
"It all happened very, very fast, in about two weeks."
Both were successful. Simpson flew to Adelaide on September 23 and performed in the first show there that night. He's deferred his university studies in finance and economics at the Australian National University to join the Australian tour.
He had been at university and not really thinking about performing when he received the call to join Lord of the Dance.
"it's been a bit of a crazy experience," he says.
But a very welcome one.
"It's amazing, I've absolutely loved it," he says.
While he says it's hard work, with 20 to 30 hours of rehearsals a week and shows, he expected that and he says all the people in the show have been welcoming and helpful.
"It's been a great experience."
The tour will take him from Adelaide to Melbourne to Canberra to the Gold Coast and Brisbane and then to Sydney and after that, he says, he'll be going to work internationally with the show – the possibilities include Europe, the West End and even Broadway, where the show has productions.
"They're going to send me overseas until the end of the year and then we'll see what happens."
His degree – and his beloved football, given up when he finished school for fear of an injury that might impede his dancing – might have to be deferred for a little bit longer.
Ron Cerabona is an arts reporter for The Canberra Times.