Crosweller to take up national disaster job
The head of ACT's emergency services has resigned after almost three years in the top job.
Emergency Services Agency Commissioner Mark Crosweller broke the news to staff via email yesterday, saying he was giving up leadership of the territory's ambulance, fire, and volunteer emergency services.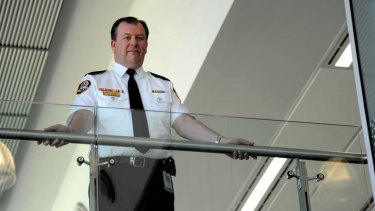 He is to take up a position as director-general of Emergency Management Australia, a federal agency focused on co-ordinating disaster response and strengthening strategic policy. His departure leaves the top job open just as the ACT approaches the critical summer bushfire season.
But Mr Crosweller told The Canberra Times the timing of his resignation would in no way compromise the city's preparedness for natural disasters. It had been ''a great honour and a privilege'' to lead the ACT's emergency services for the past three years, he said.
''Having spent pretty much my whole adult life in emergency services and emergency management, it's just a great honour to work at the national level,'' he said.
He will be temporarily replaced by the head of the State Emergency Service, Chief Officer Tony Graham, until the position can be filled permanently. Mr Graham has 20 years' involvement with the SES, a career that has included leadership roles in some of the country's worst disasters.
He helped lead SES officers during the Thredbo landslide of 1997 and the Victorian bushfires in 2009.
The hunt for a new commissioner will begin almost immediately, with the Justice and Community Safety Directorate planning to advertise the role in national media today.
Mr Crosweller was appointed as head of emergency services in January 2010, moving from the NSW Rural Fire Service, where he was an assistant commissioner.
He oversaw the ESA headquarters move to Fairbairn, helped forge better relations between the various services, and strengthen the city's emergency management plans significantly. ''Hopefully we've been able to demonstrate to the community that we are there to serve them and to meet their needs as best as we possibly can,'' Mr Crosweller said. He also helped continue the maturing of the city's fire, ambulance, and volunteer services since the devastating 2003 bushfires.
''There has been a progressive learning and maturing since 2003, and it's what every community goes through during a serious natural disaster,'' Mr Crosweller said.
''The communities that have experienced catastrophic-type events tend to lose their innocence,'' he said.
''And that's a hard road; it's a hard road to move from being quite emotionally impacted to reaching some sort of wisdom about learning from those events.''
Mr Crosweller said he is looking forward to the challenge of his new role, which is more strategically focused.