Elizabeth speaks about living with cancer - and holding her own wake - as National Palliative Care Week approaches
In a bar in Civic, surrounded by family and friends, The Smiths on loud, a Star Trek-themed cake at the ready and cocktails named in honour of her doctors, Elizabeth Caplice was celebrating at her own wake.
The 32-year-old archivist at the National Library of Australia has stage-four cancer and perhaps only months to live.
She gathered her loved ones at Bar Rochford last weekend to celebrate her life.
And she sipped on The Elizabeth cocktail made especially for her, a mandarin sour that delivered the promise "Still Not Dead".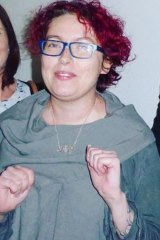 "When your liver gets to the point mine does, a little bit of alcohol doesn't make a difference," she said.
With tumours on her liver, bowel and lungs, Elizabeth has known for some time her cancer is incurable.
She has been receiving palliative chemotherapy from her oncology team to extend her life and ease her symptoms rather than to cure the cancer.
Now she is moving into more "active" palliative care, looking at other measures to help her to live as fully and comfortably as possible.
"And it's working with the team to focus on life, very much so, and that's something that's often get missed when people talk about palliative care. It's not all about death," she said.
"You see people not accessing it or putting it off because the think it's a bad thing. You're not getting palliative care because you're dying, you're getting palliative care because you're alive.
"And you want to maximise what you want to do with your life."
National Palliative Care Week starts on Sunday with the focus on "Living Well with Chronic Illnesses".
Palliative Care ACT chief executive officer Gayle Sweaney said it was a good time for friends and family to encourage people with life-limiting conditions to make their wishes known about the kind of treatment they wanted to access.
"It means more people will live in the way they want until the end, with the help of palliative care." she said.
Palliative care could help anyone with a chronic illness, not just cancer patients.
"Palliative care offers many things, including pain and symptom management, to give people as much time as possible as they live with their life-limiting illness," Ms Sweaney said.
"Palliative care isn't just for the individual but also supports those people like carers and friends and family and takes care of the whole person."
Elizabeth, now in Tasmania resting with family, was receiving pain and nausea management – and regular massages – as part of her palliative care.
"I'm a very practical, pragmatic treatment getter. I've not had acupuncture. I drink juices because I like juice, I don't think it's going to cure my cancer but massage is remarkable. It gives you tremendous amounts of energy, as strange as that sounds," she said.
Elizabeth said she was likely to spend her final days in the Care Holland House hospice. But first she wanted to say goodbye and thank you to her friends and family.
"Guys, throw your own wakes," she told her followers on Instagram this week. "Tell your friends how much you deeply love them. Learn that in the middle of an amazing party, you can [bawl] your eyes out as well because it's happy and it's sad, and that is the reality."
More information about palliative care is at palliativecare.org.au/national-palliative-care-week/
or visit the Palliative Care ACT office at 5 Flemington Road, Lyneham.
Megan Doherty is a reporter for The Canberra Times