Gonski 2.0: the Canberra private schools receiving extra funds revealed
Nine independent schools scheduled for annual funding increases under Gonski 2.0 will also receive extra "adjustment assistance" money from the federal government.
The Association of Independent Schools of the ACT said the extra funds came after the government pledged to maintain system-weighted funding for Canberra's Catholic schools for the 2018 school year.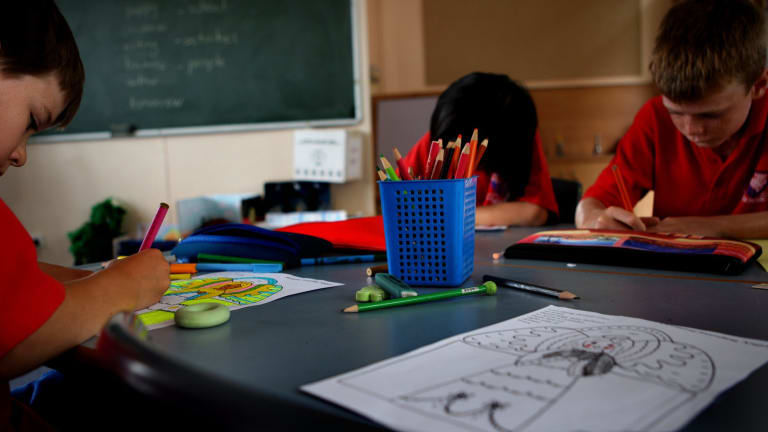 New documents show schools receiving additional cash on top of a slight increase in recurrent funding include Canberra Girls Grammar, which will receive a one-off payment of $291,508, and Trinity Christian School, which will be given $245,874.
According to the documents, a further eight Canberra independent schools will receive a share in the federal government's $14.9 million adjustment assistance funding pool over the next four years.
Daramalan College, Radford College and Marist College, each ultimately losing funding under the new model, will be given almost half the cash at about $2.2 million, $2.4 million and $2.2 million respectively.
The Gonski 2.0 model is aimed at ensuring all non-government schools across Australia transition to receiving 80 per cent of the school resourcing standard from the federal government within the next decade.
Some of Canberra's private schools are currently funded up to almost 150 per cent of the standard.
The Association of Independent Schools of the ACT executive director Andrew Wrigley said the adjustment assistance money would help schools facing cuts transition to lower levels of recurrent funding within the decade.
"[Schools have] looked at their operating model, they've made their savings where possible, and they've also looked at fee increases and made fee increases as judicious and manageable as possible over the period of time," he said.
"This adjustment assistance helps in that, because the schools have been put in a position that they are in right now because of Commonwealth decisions over the last 30 years or so."
But public school lobbyists hit out at the funding pool, with Australian Education Union ACT secretary Glenn Fowler labelling it "hush money to keep the private school lobby quiet" and "the mother of all special deals".
"There is absolutely no justification for it other than political expediency," he said.
"This is more money going to children who need it the least in private schools and less money going to Australia's most disadvantaged public school students."
Save Our Schools national convenor Trevor Cobbold said his analysis found the adjustment assistance would increase over-funding to independent schools over the next four years.
"The government's claim that these rich schools will have their over-funding reduced is a huge con-trick," he said.
"The large adjustment assistance will delay any adjustment until the next election cycle when they can again cry poor and continue to get adjustment assistance and forever put off having their massive over-funding cut."
An Education Department spokesman said: "This assistance has been allocated in consultation with the ACT Association of Independent Schools between all ACT independent schools, following consideration of each school's funding under previous arrangements and each school's transition pathway under the new arrangements."
The spokesman noted that per student public school funding would increase 7.5 per cent in the ACT each year to 2021.
Catholic schools - this year funded to 116 per cent of the school resourcing standard - will receive $36.08 million in transition funding over the next decade, including $4.95 million in 2018.
Emily Baker is a reporter for the Sunday Canberra Times. She previously reported on education for The Canberra Times.