Govt blitz on worksite safety
The ACT government is cracking down on the territory's woeful construction safety record - wholeheartedly adopting all of the recommendations of the damning independent review into the industry.
It has also flagged it will pass the cost of future safety compliance and workers' compensation onto insurers to help fund the expansion and sustainability of the ACT Work Safety inspectorate.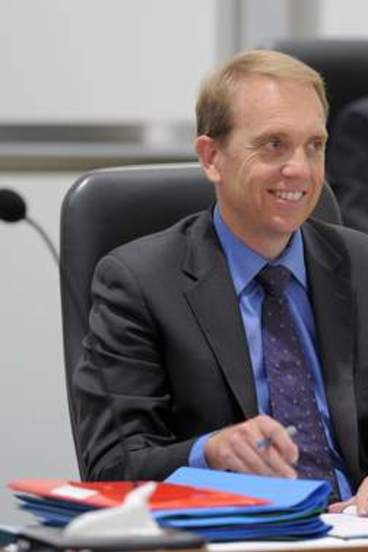 ACT Attorney-General and Workplace Safety Minister Simon Corbell will on Tuesday unveil the government's full response to the ''Getting Home Safely'' inquiry, chaired by former public service commissioner Lynelle Briggs.
Established in July following the fourth workplace death in the ACT in less than a year, the inquiry recommends a massive shake-up of ACT construction training, enforcement and culture. The ACT has the worst record for construction site safety in Australia with one in every 40 workers expected to sustain a serious injury on the job each year. The territory's rate of serious injury is nearly double the national average.
The government immediately committed to eight of the report's 28 recommendations when it received it in November - including employing 12 new safety inspectors, naming and shaming dodgy builders and introducing on-the-spot fines for safety breaches.
On Tuesday, Mr Corbell will issue a full formal government response to the report, committing to all 28 recommendations, and issuing a strong expectation that employers and unions will play their part in reducing safety risks on construction sites.
Mr Corbell said he'd been ''concerned by comments from some in the industry who have sought to downplay the extent and significance of the safety problems the sector faces. My message to them is clear, we cannot afford backsliding if we are going to make workplaces safer.'' He was also perplexed by the decision by Canberra's peak building body, the Master Builders Association, to undertake its own review into the inquiry report - chaired by Major-General Steve Gower. ''It's very unclear to me as to why the MBA feel the need to do that or indeed what it hopes to achieve from it. I trust it will be a constructive and positive look at what needs to be done, not a report to excuse bad practice,'' Mr Corbell said.
Business is expected to bear some of the brunt of the increased focus on safety, with the Construction Safety Advisory Committee - comprising industry and union representatives - to report by September on new safety training and a proposed increase of the Building and Construction Training Fund from 0.2 per cent to 0.3 per cent.
Mr Corbell will also announce the government will progressively transfer the cost of regulating ACT workers' compensation and Workplace Health and Safety legislation to workers' compensation insurers through a levy.
He will introduce enabling legislation which will mean that employers and the self-employed renewing premiums after July 1 are likely to pay more.
For an employer with an annual wages bill of $150,000, the increase will cost about $22.50 extra for a
workers' compensation insurance policy in 2013/14 (capped at 0.015 per cent of the declared wages bill). The ACT and Northern Territory are the only regions to have not moved to full or partial cost-recovery for workers' compensation. ACT taxpayers spend $5 million to monitor and enforce the scheme.
Mr Corbell also foreshadowed extending cost recovery to occupational health and safety enforcement by placing a levy on insurers for the costs of running the ACT WorkSafe inspectorate - as is done in the other states. The levy would help cover the cost of 12 new inspectors. The financial details of the second-stage levy were still being determined.
''It's an important reform to give our inspectorate and regulator the sustainable funding base it needs as it grows and we put more inspectors on,'' Mr Corbell said. Whether insurers chose to absorb the levy or pass it on to employers was a decision for them.
He said the government had already been working to implement recommendations from the report and would lead by example with legislation to establish the Industrial Magistrate to be before the Legislative Assembly in June.
Consultation with stakeholders to introduce an active certification process for government contracts was also under way so that safety performance and culture was a criterion for companies bidding for any government work.
A crackdown on sham contracting would continue in conjunction with the Taxation Office and Fair Work Australia to strengthen co-ordination and regulation. The ACT would also introduce an engineer registration scheme once a review of the Building Act 2004 was completed this year.
A short-list of proposed new on-the-spot fines is being developed and is on track to be finalised by July. Two of the new WorkSafe inspectors would also have legal qualifications to improve and speed up investigations leading to prosecutions.