Infringements handed to Canberra worksites reach four-year high
Infringement notices handed out to Canberra businesses by the ACT's work safety watchdog reached a four-year high last financial year, new figures show.
WorkSafe ACT data revealed 37 infringement notices were imposed on workplaces in 2017-18, with 36 of those being construction sites.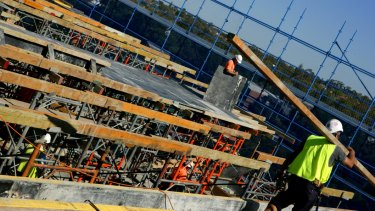 The number of infringements last financial year was the highest in the ACT since 2013-14, when 43 were handed out.
Fines for infringement notices range from $3600 to up to $600,000 or five years in prison.
More than 4100 inspections were carried out by WorkSafe officers during 2017-18, down from the nearly 5000 seen in the previous financial year, which was due to increased asbestos safety inspections.
However, the number of inspections last financial year is double that of five years ago.
WorkSafe also handed out 96 prohibition notices - where there is a risk of injury on site and the person in charge must cease activity - and 209 improvement notices, where corrective action must take place by a deadline.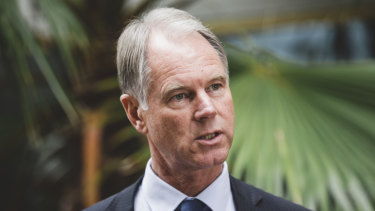 ACT work safety commissioner Greg Jones said the previous 12 months saw an increase in the number of compliance notices handed out.
"Every day our skilled inspectors are in workplaces and worksites across the ACT to support safety and take action where appropriate," Mr Jones said.
"This pre-emptive intervention works hand in hand with enforcement action which WorkSafe ACT doesn't hesitate to take where there are serious or repeated safety concerns."
The increase in infringement and prohibition notices handed outcomes as an independent review is examining the effectiveness of work safety compliance.
The government recently told a senate committee into industrial deaths it was looking to change industrial manslaughter laws so charges could be heard in an industrial court, rather than the supreme court.
Two prosecutions were also issued, equalling more than $300,000 combined, and two enforceable undertakings were entered bringing in another $700,000.
Out of the more than 4000 audits conducted last financial year, nearly half of those came from construction sites, with 83 prohibition notices and 157 improvement notices issued.
WorkSafe said it had also focused on construction for the light rail, with 215 inspections carried out since the project began.
Four infringement notices have been handed out by the work safety watchdog, and five prohibition notices and four improvement notices.
The notices were given due to a small fire during refuelling at the site and the treatment of flammable materials on the site.
"In all circumstances, identified safety issues have been remedied quickly," a WorkSafe ACT spokeswoman said.
Unions ACT secretary Alex White said despite a campaign looking into the effectiveness of WorkSafe, the watchdog has been proactive.
"The increasing number of infringement notices issued against dodgy employers is just the tip of the iceberg when it comes to companies callously disregarding the safety of working people," Mr White said.
"The simple fact is that WorkSafe inspectors tell us they are hindered by being a part of Access Canberra.
The union secretary last year called for WorkSafe to explain how it was doubling the number of workplace visits after it merged with the government agency.
"More than 3000 working people are seriously injured in Canberra each year," Mr White said.
"Each injury is evidence that WorkSafe's soft-touch approach continues to fail workers and their families."
Mr Jones said he had issued warnings to employers to keep workplaces safe in order to avoid accidents on site.
"I'd like to send a reminder to employers and workers to continue to put safety at the forefront of activity each and every day so workers go home safely," he said.
"This must come from the top, with directors, managers and supervisors showing leadership by demonstrating a positive safety culture.
"This will go a long way in meeting their legislative responsibilities."
Andrew Brown is a journalist at the Sunday Canberra Times. Andrew has worked at the Canberra Times since 2016.