Liberals call for Jayson Hinder to remove his ads from buses
Labor backbencher Jayson Hinder will seek the advice of the parliamentary ethics and integrity commissioner about advertisements running on the back of buses for his law firm during the election year.
The large advertisements on the back of ACTION buses promote Jayson Hinder and Associates, with a photo of Mr Hinder and a "#1".
While the ACT Electoral Commission says the advertisements don't breach any electoral laws, Liberal Leader Jeremy Hanson disagrees with the commission's interpretation and has called for Mr Hinder to remove the ads.
"If you look at electoral material, normally it's got somebody's face, their name, and a big 1 next to it," Mr Hanson said. "Now what you've got here looks very much like a political billboard and has exactly that – which is Jayson Hinder's face, it's got his name and a 1 that looks like a 1 on a ballot paper."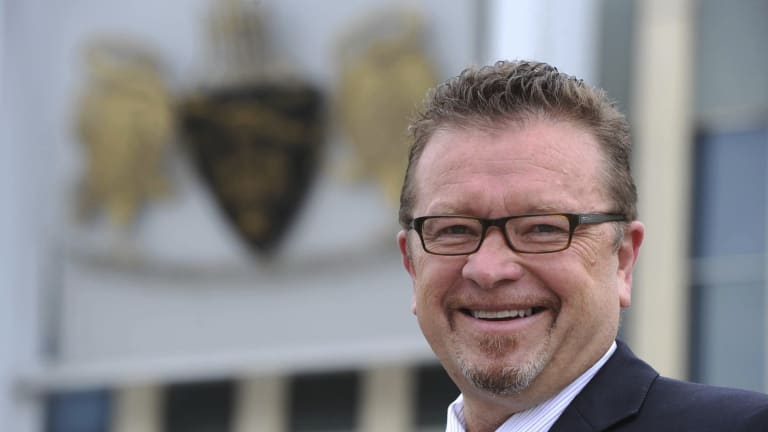 All electoral material, including advertisements, must be authorised, and in an election year it counts towards a spending cap of $40,000 a candidate (or other group or campaigner).
But acting Electoral Commissioner Ro Spence said the Jayson Hinder advertisements did not fit the definition of "electoral matter" – which was "matter that is intended or likely to affect voting at an election by containing express or implicit reference to, or comment on" the election, a candidate or an election issue.
"As these advertisements are in reference to Mr Hinder's law firm and do not mention his performance as an MLA or his status as a candidate these ads do not fall within the defined definition of electoral matter," he said.
Mr Hinder said his law firm had carried his name since 2004. It was now being run by "one of the associates", whom he did not name, and he had surrendered business control, he said. Negotiations for the handover of equity were taking place.
The new operators wanted to keep his name, the bus advertising and other advertising, he said.
The bus ads cost $17,966 a year. The contract, which began in February last year, was for 18 months, with an option of being renewed for another 12 months. "At the time of engaging this advertising there was no guarantee that I would be a candidate or elected to the Assembly," Mr Hinder said. Labor's preselection was in the second half of last year. Mr Hinder entered Parliament on a countback in March.
Mr Hinder said he was meeting the independent ethics and integrity adviser, Stephen Skehill, in April, and was "happy to request that these advertisements be removed if deemed inappropriate".
"I'm happy to request that the advertisements be taken down after conducting a review, however whether this occurs is ultimately up to the individuals who are now managing the practice," he said.
Mr Hanson said he was surprised the advertisements did not constitute electoral matter, and they breached the spirit of the law if not the letter of it.
"Whether it should come under the cap or not, and I​ think it should, I think that Jayson Hinder should take it down or accept that it constitutes electoral material," he said.
If Mr Hinder did not remove the advertisements, the Liberals would consider legislation to close the loophole, Mr Hanson said.
"Jayson Hinder, who is now seeking re-election for the Labor Party, would clearly understand that that is advertising that could be easily taken as political advertising.
"It's disappointing, and I think the standards we expect of MLAs would require us to comply with not just the technical nature of the act but the spirt of the act as well."
The rules on electoral matter apply to everyone, not only parliamentarians and parties. Unions ACT, as a third-party campaigner, must also comply with a cap, and at the start of January the group took its pro-tram ads down from ACTION buses to avoid getting caught up in the election spending tally.
Correction An earlier version of this story incorrectly said Unions ACT's spending counted towards the Labor Party's cap. It is tallied separately. Unions ACT is regarded as a third-party campaigner, not an "associated entity".

Kirsten Lawson is news director at The Canberra Times
Morning & Afternoon Newsletter
Delivered Mon–Fri.