Mark Sullivan to leave Actew
ACTEW managing director Mark Sullivan has resigned as the ACT government considers the future of the publicly-owned water utility.
Mr Sullivan was appointed managing director of ACTEW in 2008 and oversaw major water security projects, including the Cotter Dam expansion and the Murrumbidgee to Googong transfer pipeline.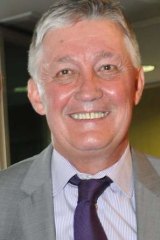 His departure follows the resignation of ACTEW chairman John Mackay last year. ActewAGL chief financial officer John Knox, has been appointed acting CEO of ACTEW.
ACTEW issued a statement late on Monday afternoon confirming Mr Sullivan was leaving. In the statement, Mr Sullivan said he was proud of ACTEW staff who had worked on projects that would enable Canberra to grow well into the future.
''I am proud to have led a capable team and to deliver on every objective agreed with the board and the government in my role,'' Mr Sullivan said.
''It was time to take stock and so the board and I mutually agreed it was time for new leadership to take ACTEW forward.''
A government-commissioned review last year recommended a major overhaul of the way ACTEW is run. The review followed the revelation that Mr Sullivan's $855,000 remuneration package had been overstated by nearly $250,000 in Actew's 2010-11 annual report.
The ensuing controversy led to Mr Sullivan accepting a $140,000 pay cut and the resignation of Mr Mackay.
Acting ACTEW chairman Michael Easson said Mr Sullivan had done an ''outstanding job'', culminating in the opening of the new Cotter Dam last year, at a cost of about $409 million.
''The board wanted Mark to complete the major water projects and not to leave early,'' Mr Easson said.
''He has been patient with us. Mark led the process of drought-proofing Canberra with major water projects, developing a safety-first workplace culture and in inspiring ACTEW to become the premier sustainable water business in the country.''
ACTEW has been criticised by the ACT opposition and unions over the management and cost of the Cotter Dam project.
Former Victorian competition commissioner Bruce Cohen recommended last year that ACTEW be stripped of responsibility for managing the territory's 50 per cent stake in energy joint venture ActewAGL.
The ActewAGL shares would be vested in a new territory-owned corporation and ACTEW would be transformed into a new publicly owned water and sewerage corporation.
Dr Cohen also recommended that ACTEW's power to impose water restrictions be transferred to a government minister.
The auditor-general is currently conducting a performance audit of the Cotter Dam expansion.
Before joining ACTEW, Mr Sullivan served as secretary of the federal departments of Veterans' Affairs and Family and Community Services.
He is also a former chief executive of the Aboriginal and Torres Strait Islander Commission.