Neil Hermes launches new book to help bird-watchers identify the 322 bird species in Canberra
At this time of year you can see birds from countries all over the world, like Siberia, China, Korea and Japan, in Canberra.
It's not a one-off exhibition or a special new show, it's part of the annual migration of the birds to the Canberra region's high country.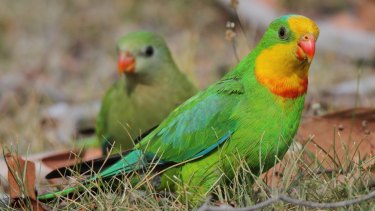 Canberra Ornithologists Group president Neil Hermes is the author of a new book detailing 322 of the birds that live in the region, including the ones that travel thousands of kilometres to be here.
One in particular is the Latham's Snipe, a wading bird now found at Jerrabomberra Wetlands. Research suggests these birds fly "extraordinary distances" to reach Canberra for summer, before heading back to nest in Hokkaido, Japan.
"There is research going on right now to put satellite tags on these birds," Mr Hermes said.
"It would appear they fly directly over the ocean from Hokkaido to New Guinea in one hop. Not only do they fly these long distances, they do it in extraordinarily short times."
Mr Hermes said Canberra is bucking the trend when it comes to the number and species of backyard and migratory birds in the city.
"When Canberra was first made the capital back in the early 1900s, it was essentially a grassy paddock - a very dry grassy paddock," Mr Hermes said.
"Many of the species that we have as common garden birds today would have been extremely rare or not present in the ACT."
With the introduction of trees and shrubs, the lakes, dams and more recently wetlands, the city has become an "extraordinarily good habitat" for birds.
Mr Hermes said up until about 20 years ago, the Superb parrot was highly endangered in NSW. After protections were put in place, the bird has flourished so much so that it has become relatively common in Gungahlin.
"It's still an extremely rare bird south of the lake, so you won't see it in Tuggeranong," Mr Hermes said.
"What's happened in my lifetime as a bird watcher in Canberra from when I was a primary school child, I've seen Canberra get better for birds.
"It's contrary to what people often say about things in the natural world, that everything is getting rarer, it's a reverse of the pattern in many ways."
Mr Hermes is launching the book at the Jerrabomberra Wetlands at 1.30pm on Tuesday. Proceeds of the day go to the Latham's Snipe project.