Old Parliament House builds Queen Elizabeth from 92,000 Lego pieces
Visitors to Old Parliament House celebrated the Queen's birthday public holiday in style on Monday, using a photo from 1954, five colours and 92,000 pieces of Lego.
More than 2500 visitors helped to recreate a photo of the Queen and then-prime minister Robert Menzies, taken during her 1954 visit to Australia, using only Lego blocks.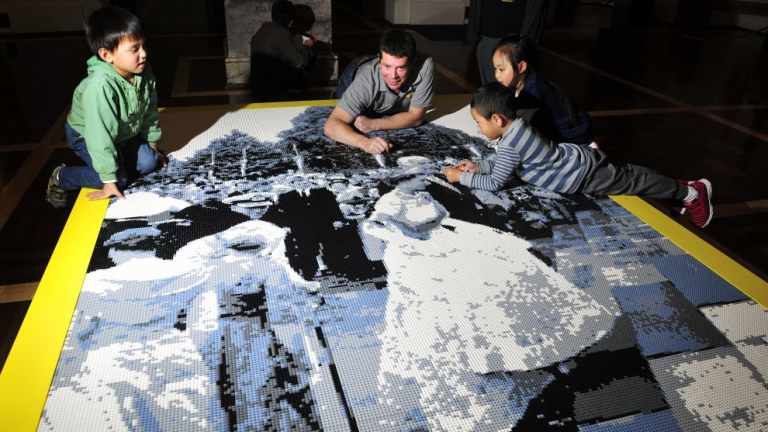 Overall, about 92,170 individual Lego pieces were used to create the artwork.
Nine-year-old Lego enthusiast Quentin Qian said it was the biggest Lego construction he'd ever seen and he'd had a lot of fun building it.
He said he'd be back again next year, when he hoped the construction would be even bigger.
Canberra Brick Expo chairman and Canberra Lego User Group member David Boddy said the whole project had been put together in just a few weeks, after a call from the Museum of Australian Democracy.
"They said they wanted to celebrate the Queen's birthday, what can we do in this time frame?" he said. "Three weeks is not a lot of time, but we still managed to assemble 92,000 Lego bricks in that time, all brand new."
He said the original photo had been divided up into a grid using a computer program, which helpers could then build one tile at a time using individualised instruction manuals.
Each participant built their tile with five different colours of bricks, before the experts fitted it into the overall design.
"We didn't expect we'd be able to build it in time here today," Mr Boddy said. "But pretty much we came in first thing this morning and we've had about 250 people an hour come through.
"It was just packed full of people here."
He said the finished artwork would be featured at Canberra's Brick Expo in August, adding he was already planning what they could build next year.
"We would liked to have built Old Parliament House on a minifigure scale. They've got an architectural model of the building here ... but in three weeks there's just no way we could source the design in that time," he said.
"We could do that one next year. I could see this being a regular thing."