Philanthropist ordered to pay $110,000 security in defamation case
A Cambodian philanthropist has been ordered to pay a $110,000 security before her defamation case against a Canberra law student can proceed.
The deputy registrar of the ACT Magistrates Court this week ordered Geraldine Cox's lawsuit, that alleges Juanita Zankin defamed her in a February Facebook post, be stayed until the former diplomat stumps up the cash.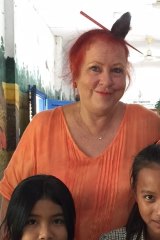 Ms Cox launched the legal action over a a 27-word comment Ms Zankin made on the social media page of Canberra law firm, Ben Aulich and Associates.
The law firm posted an image on its Facebook account in February, with the caption: "An excellent time raising funds for Sunrise Cambodia with Geraldine Cox".
In response, Ms Zankin posted a comment alleging Ms Cox had caused harm and was despised in Cambodia.
Ms Cox alleges the post defamed her and hurt her charity as it damaged her reputation.
The lawsuit argues the intention of the comment had been to cause harm to the operation of Cambodia Sunrise by causing Ms Cox to be despised, to prevent Australians from making donations, and inferring she conducted the charity shamefully.
She is seeking damages, aggravated damages, and costs.
The matter first came before the court in mid-year, with ACT Magistrates Court deputy registrar Michael Edwards dismissing Ms Zankin's application to have the matter stayed or thrown out, and struck out the majority of the defence as defective.
Mr Edwards ordered Ms Zankin to pay costs.
Ms Zankin then launched a security for costs application against Ms Cox, on the grounds she is based in Cambodia.
Security for costs can be ordered when a plaintiff resides in a country where an Australian court order could be difficult to enforce.
Ms Cox opposed the application, arguing it had not been brought promptly, and it had been Ms Zankin's second attempt at the application, having a previous bid withdrawn and then dismissed by the court.
In a decision, published on Wednesday, Mr Edwards ordered Ms Cox to pay the court $110,000, or provide a security for that amount.
"Being satisfied that [Ms Cox] is ordinarily overseas, ... I am of the view that it is appropriate to order security for costs," Mr Edwards wrote.
"There is no doubt that the costs of this matter if it proceeds to trial will be substantial.
"If successful [Ms Zankin] would be put to additional costs to enforce any costs order if she can enforce it at all in Cambodia. There is no evidence that an order will be oppressive or stultify the proceedings."
Mr Edwards ordered the proceedings be stayed until the court received the security.
Michael Inman is a courts reporter for The Canberra Times