ACT police have appealed for help identifying a car involved in an apparent road rage incident last week, with the territory's top traffic cop saying the driver will likely face criminal charges.
Police have released dashcam video of the incident, which happened on Sulwood Drive, Kambah, about 2.55pm on Monday, May 7.
The video shows a black Toyota Kluger SUV pulling out into the emergency stopping lane and speeding up to draw level with the car in front as they head west on Sulwood Drive.
The Toyota then swerves into the other car and winds up in the dirt on the side of the road, before turning around and driving away in the opposite direction.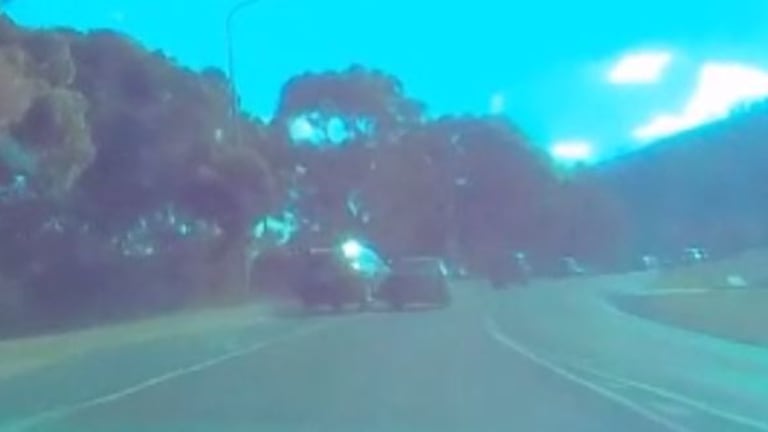 Station Sergeant Marcus Boorman said he was shocked by video of the incident.
"Pictures are louder than words, and I think anyone who views that footage would find it disturbing," he said.
"The driver of that Kluger has been totally irresponsible and has not only put themselves at risk, but has put every other road user at risk."
Station Sergeant Boorman said it was not believed anyone had been injured in the incident, which happened while parents would have been on the roads picking up children from school.
"The consequences could have been very drastic. It could have gone a lot worse than it did," he said.
"On the footage alone, there's obviously some dangerous driving charges there.
"This sort of action goes beyond just traffic offences... you're moving into criminal offences."
Anyone with information that can identify the black Toyota Kluger, or who has dashcam video of the incident, is asked to contact Crime Stoppers on 1800 333 000, or via the Crime Stoppers ACT website.
Information can also be provided anonymously, quoting reference number 6263568.
Blake Foden is a reporter at the Sunday Canberra Times. He has worked as a journalist in Australia, New Zealand and the UK.