Producer to plate: Wapengo Rocks Wild Organic Oysters
"My name is Shane Buckley and I'm the proud owner of Wapengo Rocks." These are the first words you read on the website of local independent business Wapengo Rocks Wild Organic Oysters.
The simple, yet accurate, introduction sums up Buckley's passion for his oyster farm perfectly.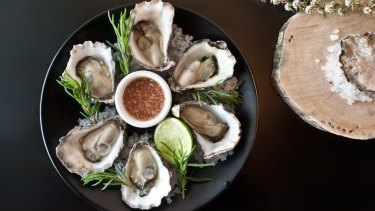 Situated on the far South Coast of NSW, Wapengo Rocks Wild Organic Oysters specialises in wild caught native rock oysters from Wapengo Lake.
"Oyster farming has been a part of Wapengo Lake since the 1890s. Evidence of the earliest techniques can be seen along our shoreline with some old rock rows still in place. Today, our infrastructure is quite different," Buckley explains.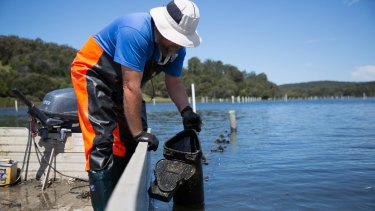 Passionate, proud and devoted, Buckley bought the existing farm in 2007 from its previous owner who was heavily into "stick culture" – a low-cost but unsustainable process of cultivating oysters. To this day, Buckley has dedicated his days to ensuring that the farm operates to a new and much higher standard that not only fosters healthy produce, but also a healthy habitat.
"Stick culture is where you dip hard wood sticks in tar and then put them out in the water to catch oysters on," he says.
"When I took over the farm, I was just horrified by that process, because it was putting a raw petroleum-based product into the water."
Buckley implemented a new movement of cultivation called single seed culture, where the oysters are caught on slats, which are made of PVC, and stripped off at a very young age.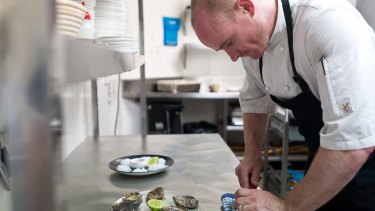 "Our oysters are now caught wild as single seed, requiring no harsh treatment throughout their life, whereas on the sticks they grow on there for about three years and become all misshapen and gnarly. Now when you strip the slats you start the oyster off as a very small oyster and grow it singularly on its own, and that's when you get that beautiful natural shape of the shell," he says.
"We got rid of all the stick culture catches, the polluting materials and the old infrastructure when we took over, and put in place new techniques where we could float the oysters in bags and rotate them in tumblers to get a nicely shaped oyster. The business just took off from there."
It's taken six years to transition the standard cultivation techniques to more sustainable practices. Buckley says all of the cultivation equipment on the farm is now either recycled or recyclable, rather than industry-standard treated pine or tar-coated sticks, diminishing the farm's waste output and, as a result, the beautiful lake that houses the oysters is reaping the benefits.
"The new floating dynamic long-line system has less impact on the lake bed. It's amazing because the seagrass has started to grow back where it was overshaded before and we are now farming with the habitat rather than opposed to it," he says.
We supply weekly to Temporada. I harvest their oysters in the morning and they are delivered within 24 hours of being out of the water so the restaurant has them fresh the next day.

Shane Buckley
"The old habitat has returned to its former glory and the ecosystem has just come back to life."
An example of the farm's cultivation practices being more sustainable than before is the requirement of only eight posts per row in its long-line systems. The equivalent volume of oysters in the old system required 180 to 200 treated pine posts and around 300 metres of treated pine rail.
So what makes an oyster farm organic? Buckley says it comes down to two things: water quality and environment.
Buckley took the opportunity to marry the latest in sustainable aquaculture techniques with the purest water quality, which saw his farm become the first Australian Certified Organic rock oyster farm in May, 2013.
"There was no real benchmarking for oyster farming in Australia and how you go about it, so I approached Australian Certified Organic, which created a standard based on a British model of agriculture and came out and had a look at what we were doing. We got put straight into pre-certification," he says.
"Organic certification is normally a three-year process, but we got our accreditation within 12 months."
An average day for Buckley and his small team requires lots of labour and patience – oyster farming is a four-year process, but with all the hard work comes a lot of rewards.
"It's back-breaking work but a labour of love," Buckley says.
"The four-year crop rotation means that there is lots of work to do, from stripping the slats in the very beginning of looking after the oysters, through to thinning the tumblers out which the young oysters are in and putting them back out into floating bags or tumblers. Then we bring those back in and repeat the process until they get to an age where you can start grading them into a sellable oyster.
"It's all done by hand. Every oyster that goes to one of our partner restaurants has been through my hands and each oyster is hand-picked for each individual restaurant."
On the menu
Wapengo Lake boasts pristine water quality and many believe that the oysters harvested from here are the best you can get. The word around town has travelled all the way to restaurants across regional NSW, Sydney, Melbourne and lastly Canberra, where Chris Darragh​ and Ben Willis of award-winning Temporada restaurant have caught wind.
"Shane makes good ethical decisions about his business and acknowledges that the environment shapes his product and makes it sustainable," Willis says.
"His attention to detail is inspiring and his standards are exceptional. We value his honesty about the quality of his product to the point where he won't send us any oysters if they aren't of a high enough standard."
Buckley says that because Wapengo Rocks Wild Organic Oysters is producing what he believes is a really high-end quality product; the team want to know that their oysters are going to the right places.
"We want to make sure that the people are cool, the food is fantastic, the service is great and the atmosphere amazing, and that's what Temporada has to offer," he says.
"We had dinner there one night and I introduced myself as an oyster farmer and if they have ever considered buying direct off the farm, and then they just fell in love with the idea and our product.
"We now supply weekly to Temporada. I harvest their oysters in the morning and they are delivered within 24 hours of being out of the water so the restaurant has them fresh the next day."
Darragh says that supporting local growers and farmers is extremely important.
"It provides close communication and quality of product," he says.
"Getting to work with producers and growers and build a relationship with them has been really enjoyable. Being able to talk to them about what sort of produce we are after and have them grow it especially for us has been really rewarding. Our producers enjoy this partnership, too."
"These guys now, the younger more innovative food people in restaurants, are more connected with where their produce comes from. With that they get an understanding for their product and have a lot more knowledge about production," Buckley adds.
"That connection with the farmer is something that they really enjoy now because there's that provenance of what's behind the product, what influences the taste – for oysters that's the season's elements – and the sustainable beliefs of the producers themselves."
Temporada, which means seasonal in Spanish, is a testament to that. The restaurant serves Buckley's oysters natural or steamed open on its wood-fired chargrill, which the boys say imparts a delicate smokiness.
"The flavour characteristics of the ones we develop for Ben and Chris at Temporada have the texture of a soft poached egg and this incredibly sweet, saltiness that comes through combined with a real mushroom flavour that gives it this wonderful lingering flavour you have for 15-20 minutes after eating the oyster," Buckley says.
However, Buckley explains that not all of the oysters grown on his farm taste the same. There are many seasonal factors that can influence and change an oyster's flavour characteristics throughout the year.
"Some restaurants like their oysters when they're a bit saltier and brinier, so I can supply to those places all year, whereas others only like them really creamy and plump," he says.
"What makes the oyster's taste vary depends on what they are consuming. There's different phytoplankton within the water profile that exist at different times of the year due to temperature and also rainfall.
"In the warmer months, that's when the oyster gets really fat, creamy and rich because the food that they like to eat is a lot more predominant in a warm environment and it fattens them up. But in winter, there's not as much of that food available to them so they get a bit leaner and thinner, and that's when they become more salty and briny in flavour."
Buckley knows this because it's safe to say that he's had his fair share of oysters in his lifetime.
"I've had a couple," he laughs. Wapengo Lake plays a stunning backdrop to Buckley's working day – a vision many city slickers would happily trade in for their usual daily grind. Despite being immersed in the environment every day, Buckley says he will never take it for granted.
"Where we are, it's quite remote. The waterways are amazing; we're surrounded by a national park and state forest and we have this beautiful mountain that towers over the back where our water comes from," Buckley says.
"I love being out here, seeing the different weather systems come through, looking at the ecology in the water and seeing the little critters. It's an amazing experience that I'm so proud and lucky to be part of."