Seven events not to miss at Enlighten 2016
Enlighten Festival kicks off this weekend – here's our pick of what you should check out.
1. Giant inflatable rabbits
These guys will be hard to miss – an installation of illuminated white rabbits, which stand at an impressive seven metres high. Australian artist Amanda Parer's bunnies have invaded festivals all around the world. They'll be at the Parliamentary Triangle on March 4, 5, 11 and 12 at 6pm and are free to check out.
2. Edible banquet
A 20-metre long banquet made entirely of sugar, which you can not only view but also taste – for reals. It's created by Ken + Julia Yonetani and is a metaphor for human consumption and its impact. Thought-provoking and delicious. One night only on Saturday, March 5 at 7.30pm at the National Gallery of Australia. Free.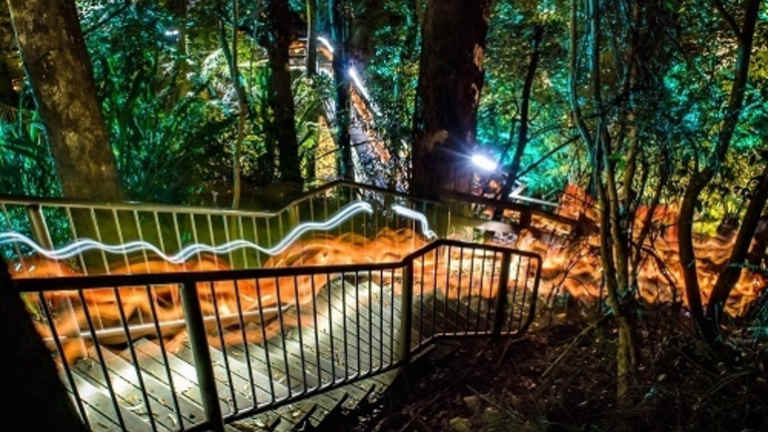 3. Night noodle markets
The Enlighten Night Noodle Markets are back for another year. After last year's debut, in which 156,000 people thronged the lawns beside Questacon and the Portrait Gallery, they are going to be bigger – organisers have doubled the market area, leaving plenty of room to sit and chill. There are also more stalls, including 10 new Canberra stalls. One of them is selling the sakura burger – an eye-popping pink burger with chicken that's been fried in ramen and served in a bun glazed with cherry-blossom sake. Enough said. Check out a complete guide to the stallholders here.
4. Luminous Botanicus
Don't forget the Australian National Botanic Gardens on your Enlighten circuit this year, as Luminous Botanicus is back. From Friday, March 4, the gardens is presenting Night Moods, four nights of illuminated landscapes enhanced by silhouette puppetry, Japanese shakuhachi, harpist strings, outdoor art installations, Indigenous storytelling and more. $15-$25 from ticketek.com.au.
5. Dark disco
The National Portrait Gallery is turning off the lights and turning up the music for a dark disco. The music will be inspired by Aussie artists featured in the National Portrait Gallery collection. Saturday March 5, from 7pm. Free.
6. Live music
The music line-up this year is huge, and best of all, it's all free. There's everyone from locals The Ansah Brothers, Slow Turismo, Young Monks, Brother Be to Augie March and Mansionair, and even alt-folk rockers Calexico, all the way from Tucson, Arizona. The music kicks off from 6.30pm on both Friday and Saturday nights of the festival.
7. Night safari
Go visit the zoo's animals on a private tour as the sun goes down. Tours at 5.30pm and 7pm on March 11 and 12. Tickets $20-$30 from ticketek.com.au.