Summernats 'mobbing' denied
Police have received no formal complaint over claims that three promotional models were mobbed at Summernats on Saturday.
But ACT Policing has spoken to one of the individuals involved, who has cast doubt over the original version of events.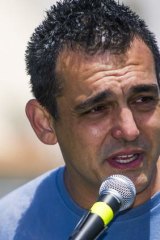 Fairfax Media reported on Tuesday that three young women, working as promotional models for auto tool company Sidchrome, were harassed by a group of men as they were driven down Tuff Street.
The models' car was reportedly stopped, and the women grabbed and had water poured over them. One witness said the three young women had clothing torn from them.
But one of those involved in the incident contacted police on Tuesday, disputing those version of events.
She did not make any formal complaint.
Police are unable to investigate the incident without a complaint and a police spokesman said anyone with information should get in contact with authorities.
Sidchrome representatives could not be contacted on Wednesday, nor could Summernats organisers.
But both parties raised concerns over the reports earlier this week, with Summernats co-owner Andy Lopez urging anyone with information to come forward.