At 13, most school students would be starting their first year of high school.
But not Toby Carlton.
While he should be in year 7, Toby has been accelerated three years ahead of his peers, doing year 10 subjects across the entire curriculum.
As if that wasn't enough, the Erindale College student also does university-level maths once a week at the Australian National University.
Despite it sounding like a huge workload, Toby said he wouldn't have it any other way.
"I like being pushed. I just really like learning and understanding more about the world," Toby said.
"I don't really think about being the youngest person in my class."
While living in NSW, Toby was put into accelerated classes from year 3. By year 5, he was put into an opportunity class for gifted students before his family moved to Canberra for non-schooling reasons.
He said while he had been accelerated several years ahead in the ACT school system, more support was available for academically gifted students in the NSW system.
"Sometimes it feels like there's not enough support to be accelerated," he said.
"I would want to see more programs and encouragement to help me and other people in a same situation, instead of holding us back."
'It's a challenge'
In order to be accelerated three school years, Toby had to undergo several rounds of tests to see how he would cope both academically and emotionally.
Before moving to Erindale College, Toby was accelerated to being a year 10 student at Lanyon High School and would have to travel to the college to study year 11 and year 12 maths subjects.
Toby's mother, Gabrielle Carlton, said while they were fortunate to have the support of Lanyon High School in accelerating Toby, it may be difficult for other people in a similar situation.
"The principal at Lanyon fought our case for us and put Toby into the assessments to help him get accelerated," Ms Carlton said.
"For other people, there's not that much support for accelerated students in Canberra unless you live in a specific area like Lyneham, where the high school has an accelerated program.
"It's a challenge for the parents and the teachers and also the students as well."
After moving from extension and opportunity classes in NSW to Canberra, where opportunity classes aren't available, Ms Carlton said Toby would have been held back if he was in mainstream classes.
"We came from the Sydney education system to Canberra's, and there's certainly much better support in NSW compared to the public system here," she said.
"Toby may be younger than his peers in his class, but he feels more comfortable with them. He feels like he can fit in with that cohort and have a more mature conversation."
Despite this, Toby faces bullying at school, but not from his older classmates.
"He's bullied by his aged peers. He's significantly bullied because he's so different," Ms Carlton said.
"But he's now spends time with 15 and 16 year olds, and they're happy that Toby's there with them."
Toby said he wasn't fazed by the bullying from students his own age.
"It was hard and it was a bit of a struggle at first, but I just prefer being around some of the older kids," Toby said.
"I do see some kids around my own age, but there's not really many friends in that group anyway."
A rigorous process
It's not known how many accelerated students are in Canberra schools as no centralised list exists and acceleration is at the schools' discretion.
A recent study carried out by Edith Cowan University found no two Australian states or territories had the exact same approach when it came to supporting accelerated students in the classroom and called for a consistent strategy.
An ACT education directorate spokesman said its gifted and talented students policy provided direction for schools on how academically-gifted students were supported inside and outside the classroom.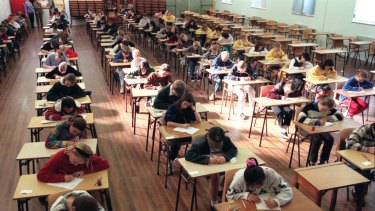 "Whole-grade acceleration is just one strategy for meeting the educational needs of gifted and talented students," the directorate spokesman said.
Strategies used in ACT schools can include subject specific or whole-grade acceleration, external partnerships or targeted programs in schools
When a student is accelerated, either in one subject or a whole grade, an individual learning plan is made for them by teachers in collaboration with the student and their parents.
The directorate spokesman said different specialised classes would be offered to accelerated students, depending on their needs.
"School principals are also responsible for ensuring that there are established, effective and equitable processes and measures in place for the identification of gifted and talented students," the spokesman said.
Lanyon High School principal Barbara Monsma said the process to determine whether a student was accelerated was rigorous.
"There's usually a range of different sources involved such as reports from external psychologists and the school psychologist and also standardised testing, and it can also involve interviews with the students themselves," Ms Monsma said.
"One of the strengths of the ACT model is that there isn't a one-size-fits-all approach. It's about getting to know the student and see how their needs could be met further."
For many ACT accelerated students, classes offered at the Australian National University provide an outlet to take their studies further than what can be taught in a traditional classroom.
ANU's extension program is aimed towards year 11 and 12 students, who can completed extension classes in science, engineering, maths or Asian languages.
A university spokeswoman said about 300 students from across the ACT took part in the program each year.
"Students who successfully undertake studies in ANU extension will be able to articulate into an ANU bachelor degree program, and receive credit towards the bachelor degree for the studies successfully completed," the spokeswoman said.
'Acceleration a last resort'
After moving to the ACT, Ms Carlton said NSW's system for academically gifted students offered more support than what she had seen in Canberra schools, with location being a barrier to access schools with more programs for accelerated students.
While parts of the NSW system may be similar, with principals having discretion over whether to accelerate or not, other measures such as opportunity classes or selective schools are also available.
A NSW Department of Education spokesman said the department was reviewing the policy to take into account new research on how best to educate accelerated students.
"Decisions regarding acceleration are made at a school level, and involve consultation between school staff, students and parents," the spokesman said.
Counselling is also required for gifted students under the NSW policy, in order for them to understand the implications of being accelerated at school.
While the ACT public system may be dependant on location to access services, in the Catholic sector acceleration is also up to the principal.
Rachel Smith, the principal at St Benedict's Primary School in Narrabundah, said acceleration was rare, having only seen it twice in a 20-year education career.
"Acceleration is a last resort. We don't want students to feel ostracised, and we want them to have a support network," Ms Smith said.
The Catholic school principal said external programs were a way for students to get the enrichment they need academically.
Some students, if they're not accelerated would be cruising through school work without doing anything and would not be challenged enough.

Dr Jae Jung
"We've nominated children to go to programs or single-day workshops based around a subject, and there's a couple of other schools involved as well," Ms Smith said.
Marist College headmaster Matthew Hutchinson said there was no single approach to supporting accelerated students; it had to be multi-pronged.
"What that really means is that we have make sure the content that is getting delivered in the classroom is at their level, and there are lots of challenges for teachers," Mr Hutchinson said.
"I like the idea of acceleration in particular subjects when there's evidence to do so."
'It's a pity Canberra doesn't offer it'
The ACT and NSW aren't alone in having different approaches to acceleration, with each state and territory having its own unique method for supporting gifted students.
A recent study from Edith Cowan University found a more consistent approach was needed.
"Historically, Australia has lacked a consistent approach to identifying gifted children. A consistent approach requires a common definition of giftedness and well-defined identification policies and procedures," the report said.
Acceleration is a last resort. We don't want students to feel ostracised, and we want them to have a support network.

Rachel Smith
According to the study, NSW is the only jurisdiction where responsibility for identifying gifted children is spread across the education system , with the principal, teacher and whole school community involved.
Neither Victoria or Queensland has an existing policy for identifying academically gifted students.
"NSW and SA clearly lead the way in mandating criteria that must be adhered to in the procedures schools implement to identify gifted children," the study said.
"Each teacher should not be expected to be independently devising and implementing identification procedures in their classrooms, but rather should be appropriately directed, led and supported in their efforts to implement the school's procedures."
Dr Jae Jung, a senior education lecturer at the University of New South Wales, said while accelerating students multiple years at a time like in Toby's case was an "extreme" measure, holding students back who were suited to acceleration just so they could be with their peers was more detrimental.
"They would be more likely to be bored in the classroom and would lead to substantial levels of under-achieving," Dr Jung said.
"Some students, if they're not accelerated, would be cruising through school work without doing anything and would not be challenged enough."
The lecturer said while there was often a negative attitude towards acceleration, more support was needed for students who go down that route.
He said more methods of academic support, such as selective schools, were also needed in Canberra.
"It's a pity that a city the size of Canberra does not offer this educational option for students because many gifted students would be supported by it," Dr Jung said.
'Always an answer'
After moving to Erindale College for his studies and being challenged at school, Toby's mother said he had never been happier.
Being accelerated several years ahead of his cohort has meant Toby would also be the youngest in his class when he gets to university, although that's a prospect he's not daunted by.
"If I had the choice, I would want to go to university now," he said.
"I want to do something somewhere around maths. I like the fact that, with maths, there's always an answer to everything."
Andrew Brown is a journalist at the Sunday Canberra Times. Andrew has worked at the Canberra Times since 2016.