Top achievers label NAPLAN ranking 'useless'
Blue Gum Community School has slammed My School data as useless and largely misleading despite the data glorifying its students as some of the highest achievers in the territory.
National Assessment Plan Literacy and Numeracy (NAPLAN) test score comparisons show the tiny school of just 120 students has jumped up to 80 places in ranking lists across Canberra. The Hackett school leapfrogged 76 places to come fourth in year 3 writing, jumped 43 places to come second in year 5 grammar, 77 places to come eighth in year 3 grammar and 56 places to come ninth in year 3 literacy.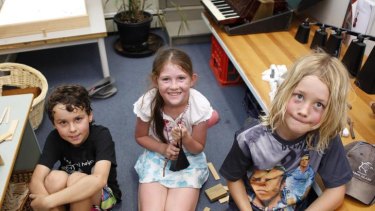 But principal Maureen Hartung said the remarkable turnaround was more to do with class sizes than actual improvements in teaching or performance. She said her biggest class in years 3 and 5 only had nine students.
The year 9 class was even smaller. Its cohort of just four students was considered so small the data was declared invalid for publication on the My School site.
Ms Hartung said this gave highly misleading results.
''If you think about a school that has 1000 students in a test, the averaging that occurs means that one or two students' performance won't vary those results greatly,'' she said.
''But in our school we have wild fluctuations [in rankings] because our class sizes are so small that one student's performance can completely skew the average.'' While Ms Hartung was proud of her students' results, she labelled the My School website a ''completely useless'' tool for parents trying to determine the best school for their children.
She felt its reliance on statistical data placed too much competitive pressure on schools and said this was evidenced through reports of schools cheating - giving their students extra time, changing student results or forcing children to spend six months solely practicing NAPLAN testing.
Ms Hartung said the use of raw statistical data prompted even the most genuinely-motivated schools to set unrealistic goals. ''I've heard at least one school make the statement that it wants all of its students to achieve in the top 50 per cent,'' she said.
''But if every school in Australia wants their students above 50 per cent, how does that work statistically? You've got to have 50 per cent below the line and 50 per cent above, so it won't work.''
Ms Hartung said parents needed to place more confidence in their own judgment rather than relying on impersonal measurements and tests that relied on a student's performance on one day of the academic year.
To get an accurate interpretation of a child's progress, she said teachers should always be the first port of call. ''Parents need to look at their child when they walk in the door and see the difference the school makes,'' she said.
''That means keeping in close contact with the teachers and observing all aspects of their development, not just literacy and numeracy.''