What's it like to glamp at The Naked Cubby?
It's important to first note that I don't camp. And when I say camp, I mean anything below 3.5 stars. I do recall being forced to camp in high school, and as an adult, I camped volunatrily at Splendour in the Grass once, and have stayed at many basic hostels across Europe. But my absolutely basic requirement is always a toilet.
Which is why I found myself unable to sleep the night before staying at the new Naked Cubby at Mount Majura Vineyard. Far from camping, the 'glamping' experience is in a permanent five-metre bell tent, set up on a deck above the vines and looking straight down the valley. It comes complete with plenty of creature comforts: floorboards, a rug, an armchair, a solar-powered fridge, lamps and a real king-sized bed.
But for now, there are no toilet facilities at the tent. The closest is down the hill at the cellar door - which is open 24 hours if you're keen to make the trek - and there's a torch and lights to help guide the way. Otherwise, it's just you and the grass.
A stay at The Naked Cubby starts with wine tasting at the Mount Majura Vineyard cellar door. It's quite a lengthy tasting, about 14 wines, but you've not got far to stumble afterwards, so this is the one time worth making the most of it. My advice? Get there a bit early and allow about an hour for the tasting.
Then you pick up the key and head up the mountain to the cubby. It's a bit of a trek, but quite picturesque through the vineyards. If you go slowly, though, it's a fairly easy walk.
Inside, they've thought of everything. There are board games and blankets, books to browse, gum boots, plants and decor, and deckchairs and a table outside. Everything from the ceramics to the books and the food is locally sourced, which is a nice touch.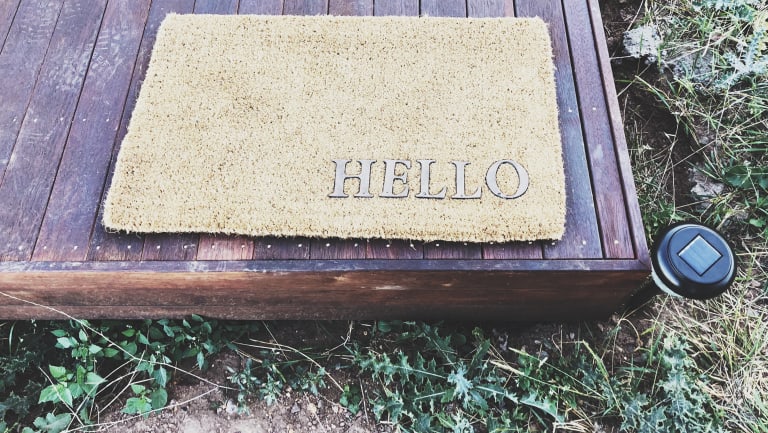 The cubby is all about disconnecting, so we do exactly that - put our phones away and spend the afternoon drinking wine and looking down over the valley. It's not completely quiet - you're under a flight path, and there's a bit of noise from trucks on Majura Parkway and the shooting range up the road - but it's a rather dignified way to watch the sun go down. Plenty of kangaroos also keep us company.
We then tuck into dinner, which is a hamper from local company Schmicnics, cooked by chefs at The Boat House. It's a four-course series of cold dishes, from snacks and dips with Sonoma sourdough, to cured and smoked meats and a pork pie on the charcuterie platter. Then it's three salads - burrata and tomatoes, a mushroom and rocket salad, and a squid ink fettucine dish - followed by brownies and cheese for dessert. It's pretty delicious and more than filling - there's enough leftover to feed me for lunch the next day.
Once the sun goes down, we retreat inside the cubby, where two lamps cast a soft glow, and Uno, Scrabble and Connect Four keep us entertained until bedtime.
And then there's the bed. Oh, the bed. I could write an entire love better to that bed. It's a full king-size, with a mattress that embraces you like a long-lost loved one. Add in the luxury linen, and it could not possibly feel less like camping.
We both fall asleep pretty quickly. And then the inevitable happens. The call of nature.
After trying desperately to convince myself to just fall back to sleep, I wake up my partner and convince him to hold the torch for me. People say that weeing in the bush is freeing and makes you feel connected with nature. I don't particularly care for nature, so that was never going to win me over. But the freeing aspect I can get on board with. Long story short, I don't run into any creatures of the night, I'm very thankful for wet wipes, and the view of the stars is incredible; we even lingered outside a bit to enjoy the view.
Verdict: I'd be lying if I said the weeing in the grass didn't traumatise me a bit. So would I go back again? Honestly, I would - if only for another date with that bed. It was really like nothing else I've done in Canberra, I loved the vineyard connection, and there's nothing like "camping" to make you switch off.  Just always pack wet wipes.
Details: The Naked Cubby is available for one-night stays Thursday to Sunday nights. Prices start at $250, which includes the stay and a breakfast hamper, or $375 which also includes the Schmicnic platter. Book at nakedcubbycollective.com/.
The writer stayed as a guest of The Naked Cubby.
Morning & Afternoon Newsletter
Delivered Mon–Fri.