'Worst nightmare come true': Man jailed for 'terrifying' Canberra sex worker attack
The attack was a worst nightmare come true for two Canberra sex workers; a "gross violation" of their workplace, their bodies and their safety, prosecutors said.
Threatened at knifepoint, dragged into a bedroom, robbed and repeatedly raped in a horrifying ordeal when one man booked an appointment before he showed up at the Reid unit with two others in search of "free sex and money" one night in March 2016.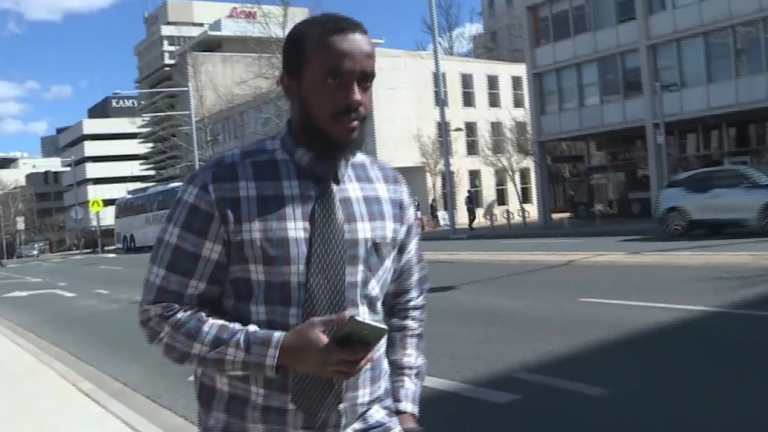 Among the three attackers was Rashid Mohamed Abuuh, 24, who an ACT Supreme Court jury in September found guilty of sexual assault, rape, attempted rape and aggravated robbery in the company of two brothers.
Ahmed Al Abbasi, 32, also named as Khaled, and his younger brother Mohammad Alabbasi, 22, were each jailed for more than five years for two separate attacks on three sex workers at apartments in Reid and Braddon.
Justice Michael Elkaim echoed their sentencing judge's description of the offending as "disgraceful" as he handed Abuuh three years and eight months' imprisonment for his role in the Reid attack court on Tuesday.
He said the fact the rape offences had been committed against sex workers did not lessen their severity.
"The victims were entitled to carry on their profession in safety and free from fear of molestation, rape and robbery by men masquerading as customers."
Prosecutor Sara Gul said the offences were "extremely serious" and would have been "terrifying" for the vulnerable women, who were alone at the time and barely spoke English.
"For the victims this was a gross violation of their workplace, their bodies and their safety."
"Your Honour might think this was a worst nightmare come true."
At trial, Abuuh said he had acted under coercion.
He acknowledged one of the women had been forced to perform oral sex on him but said his role in the attack had not been voluntary. He denied he raped the woman, or had tried unsuccessfully to rape her during the ordeal.
Justice Elkaim said the offender's account "defied reasonable belief" and had been "plainly rejected" by the jury.
His trial heard Abuuh went to Escape Travel in Belconnen and enquired about a one-way flight to Mogadishu in the hours after police served him with a summons to face court on the charges.
He booked his ticket soon after his first court appearance, but had denied he intended to skip the country so he wouldn't face the charges.
Ms Gul the attack involved a degree of premeditation and planning and Abuuh had shown no remorse. She said deterrence, denunciation and punishment should "loom large" in sentencing.
Defence lawyer Andrew Fraser said Abuuh had tried to stay away from the brothers and had been a "hanger on" who feared Ahmed.
Justice Elkaim said Abuuh was born in Somalia before his family fled civil unrest for Saudi Arabia in the late 1990s.
His father died soon after and Abuuh was arrested as an illegal immigrant, separated from his mother and sister and put in an adult prison.
They later came to Australia, where he became a citizen.
"His community is made up of many persons who have faced trauma and suffered in their home country and who would benefit from support and assistance," Justice Elkaim said.
The judge found Ahmed Al Abbasi was "the most culpable" of the three men in the attacks and said Abbuh's role had been closer to Mohammed's.
Abuuh, who has served more than 100 days in prison, will spend at least two years and two months behind bars. He will be eligible for parole in October 2019.
In the Braddon attack, police said Ahmed Al Abbasi had raped the sex worker after she accepted an online booking for a half-hour service in a hotel on May 10. His brother had driven him to the apartment block.
Megan Gorrey is a reporter at the Sydney Morning Herald. She was previously a reporter at The Canberra Times.