Young American musicians Benjamin Beilman & Andrew Tyson in recital at Llewellyn Hall
Benjamin Beilman, violin, and Andrew Tyson, piano, in recital. Llewellyn Hall, ANU School of Music. Thursday, October 20 at 7pm Bookings: ticketek.com.au or 1300 795 012
The partnership of the two young American musicians, Benjamin Beilman, violin, and Andrew Tyson, piano, has received the highest praise for performances throughout England, Europe and the US.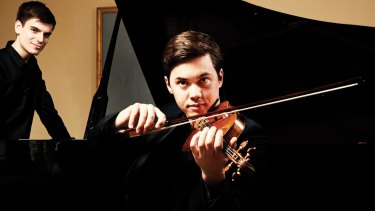 Beilman's playing has been described as "muscular with a glint of violence" and as having "a dark chocolate sound", while Tyson was lauded by BBC Radio 3 as "a poet of the piano." The yin and the yang of a musical partnership, perhaps?
Beilman laughs at this suggestion. "I guess that's a decent way to describe it," he says. "When I look for collaborators and recital partners I'm very much seeking people who have at least some overlap but more often I want somebody who is a different identity, not someone too agreeable and complacent. The kind of repertoire that I like to play asks for an equal piano part and therefore it's important to have an equally impassioned and sure area."
The two met as students at the Curtis Institute in Philadelphia but, as Beilman explains, "I'd heard Andrew perform on several occasions but it wasn't until after we'd graduated that we played a piano quintet at a festival in New York. Because we'd had similar tutelage at the same school we found collaborating very easy. When I was asked to perform on this Musica Viva tour my first consideration was, 'Who will be the most perfect musical partner?' Almost equally important was, 'Who do I want to travel with?' And Andrew is a poet of the piano and really a world-class artist but he's also a very interesting guy and I consider him a close friend."
Beilman has just acquired a 1731 Stradivarius violin on a short-term loan from a London shop.
"It's a very fine big instrument and hopefully there'll still be 'the dark chocolate sound' especially in the Janacek sonata that we're going to play in our recital," he says.
"It's an incredibly evocative piece that really describes a time in Janacek's life and also in the history of the world, written in 1914 when there was unbelievable aggression and uncertainty. I think you can hear this in the sonata. The piano starts with a very nostalgic, almost naive and very simple melody and then the violin interrupts ... with a very short staccato which is like rapid machine gun fire. It can be a very brutal work which in a split second can change to a completely different emotion."
Beilman describes it as a complete contrast to the Mozart work, Sonata K526 in A major, which will open the program, "a well crafted work with a lot of lyricism and sweetness."
Beilman decided to use this piece rather than the B flat major sonata previously advertised as he feels that it is a stronger and deeper work composed just before Mozart wrote Don Giovanni, "but I'd say that it's just about the complete opposite of what was just about to spill out from him."
After interval the duo will play the world premiere of a work, Cerulean Orbits, that was commissioned by Musica Viva from the Australian composer Jane Stanley who now lives in Glasgow.
"The piece really appeals to me," Beilman says, "and Andrew and I have workshopped it several times with Jane in London. With Jane I really feel that she wants to make it a very tailor-made piece. She has very clear ideas about what she wants to convey and she wants it to fit well on the instruments."
The final work on the program is Saint-Saens' First Violin Sonata.
"It's not marked 'presto' but it feels presto," Beilman says, "and at the end it's almost like cymbals crashing and the most over-the-top fireworks you can imagine. If it were any less wonderfully crafted it could sound like a pastiche but Saint-Saens manages to keep it just inside the line of elegance and virtuosity with taste."
Beilman says that after the first 18 years of his musical career he is now focusing on broadening his vision by understanding the movements of the art world and history, placing works in context by going to exhibitions of works of the periods of, for example, Janacek and Stravinsky.
And a favourite composer?
"In this program I'll be looking forward to the Janacek. It's tumultuous and then the clouds clear away. The completely personal, direct, introspective expressiveness of his music is fantastic. Right now I guess I'm on a Janacek kick."