A social golf club in Canberra's west is taking a swing at ACT Chief Minister Andrew Barr over a proposal to wrest control of community contributions away from clubs.
Weston Social Golfers, which is based at the Weston Raiders Club, are concerned clubs will no longer be able to subsidise junior sports if the changes go ahead unopposed.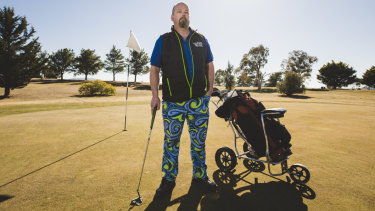 Currently, clubs in Canberra are legally required to reinvest at least 8 per cent of their of net gaming revenue into a community contributions scheme, part of their social licence for having poker machines.
But amid concerns about the transparency and effectiveness of the scheme, the ACT government has proposed creating a central fund where some or all of contributions would be pooled.
That led to a split within the clubs industry, a whopping fine from the Electoral Commission for breaching the spending cap, and Mr Barr and his ministry refusing to have anything to do with the group.
That history has fuelled suspicion that Mr Barr wants to divert community contributions away from clubs to his own fund, claims Mr Barr rejects.
"Our objective in conducting a review is to reform the system to maximise the direct benefit to the community from the scheme," Mr Barr said.
"Clubs exist, by their nature, to serve the community. The community contributions scheme arises from the specific privilege that clubs have to conduct gambling at their venues and ensures that funds are distributed in a transparent way that benefits those who need it most. Money collected through scheme belongs to the broader community."
But president of the Weston Social Golfers, Stuart Ramshaw believes clubs are paying the price for the government's failure to regulate or monitor the community contributions scheme.
He's created a website, stopbarr.com.au, to alert people to the changes, especially about the potential impact on kids sport.
"We both know going to get through but it's not going to get through quietly," Mr Ramshaw said.
Mr Ramshaw said he is unaffiliated with the clubs industry peak bodies, or the Canberra Liberals, although he did appear in a video with Mark Parton last week.
He said his group - which receives several thousand dollars each year under the community contributions scheme -  does a lot of charity work for the wider community, but would have to run fundraisers to fill the void left by their local club if the changes went ahead.
"We've raised $60,000 in previous years for Camp Quality, it's a local charity with its headquarters in Weston Creek, and we do two-up every year at the club to raise money for Soldier On," Mr Ramshaw said.
"Lots of people in Weston aren't well off,  they have three or four kids and couldn't play sport without donations from clubs, donating uniforms and paying for registration.
"I know Vikings even subsidise registrations if families are hard-up and they've started up a junior AFL girls team.
"Instead of raising money for charity, we're going to be raising money for junior sport. Maybe I should set up the Weston Social Golf Club President's Charitable Fund and see if Andrew Barr will give me a few million bucks to get started."
Mr Barr said many claims on the website were "simply wrong".
"Labor policy and the Parliamentary Agreement .. included a commitment to establish an independent charitable fund to distribute a portion of community contributions obtained from operating electronic gaming machines in the ACT to charitable and community causes," Mr Barr said.
"We intend to honour this commitment. However, this does not mean that all of the community contributions will be diverted into a central fund."
Advocates for gambling harm reduction say funding junior sports through poker machines profits is a questionable practice.
The Canberra Gambling Reform Alliance had previously urged the ACT government to centralise the distribution of community contributions to improve oversight of the scheme, and have welcomed the proposed changes.
Co-chair Rebecca Vassarotti said the current scheme was dependent on "ad hoc arrangements"  and not delivering either for grass roots community sport or gambling harm reduction.
"While far too little money goes to gambling harm, it has also been surprising to find out via research that significant funds have been directed to elite sport, which has not been the expectation of community about the sorts of projects these funds would support," Ms Vassarotti said.
"In addition, we need to be honest about the reality that we have outsourced the funding of much local sport through these alternative funds, but this has come off the back of significant harm for individuals, families and communities."
Ms Vassarotti said there needed to be a better return on the significant investment being made in the scheme.
"While community sport is one activity that should be supported, we first need to deal with the impacts of gambling harm," she said.
You can have your say on the proposed changes to the community contributions scheme until August 13 by emailing: LRGPolicy@act.gov.au
Katie Burgess is a reporter for the Canberra Times, covering ACT politics.