ACT Brumbies recruit Ryan Lonergan too young to play under-20s, but keen for Super Rugby
Canberra schoolboy Ryan Lonergan is too young to play against 20-year-old rivals in the ACT club competition, but the teenage scrumhalf is set for a giant leap into Super Rugby next year.
Lonergan will jump from the Tuggeranong Vikings under-18s season into the ACT Brumbies program at the end of the year after signing a professional contract while completing his year 12 studies.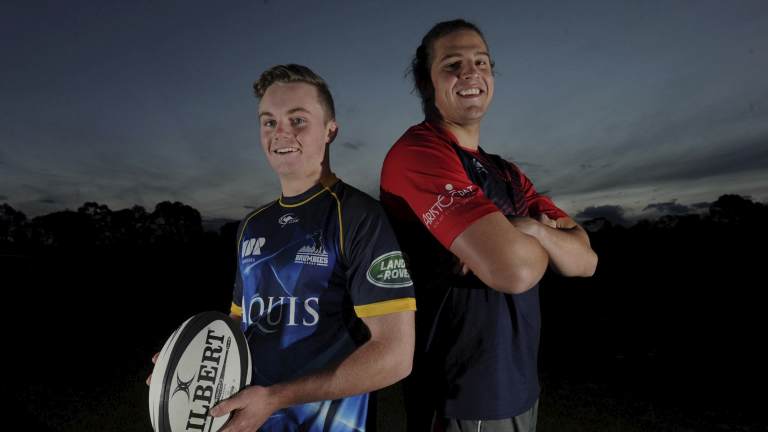 There are rugby rules in place to protect developing players from injury against older opponents and they prevent Lonergan from being eligible to play in the Colts division or against men in first or second grade.
His birthday falls five days after the cut-off date for the under-20s competition this year, but that did little to deter his Brumbies ambitions.
"It's come a lot quicker than I thought ... I don't want to get caught up in it all and waste this opportunity," Lonergan said.
"I've been in the same Vikings team since under-12s and we've won a few premierships but I'm too young to play Colts at a club level," Lonergan said.
"It kind of sucked, but it didn't matter. The under-18s competition is pretty solid this year anyway so I've been pretty happy and was happy to stick it out.
"I thought it would be odd at the start but I'm really enjoying it and then I'll just take next season as it comes."
Lonergan and fellow Tuggeranong Viking Ben Hyne have been handed extended player squad contracts at the Brumbies while young-gun Jordan Jackson-Hope is also expected to get a deal.
Lonergan will spend the rest of the year completing his schooling at Trinity College in Tuggeranong before starting his full-time stint with the Brumbies.
He has year 12 exams to think about and says rugby won't get in the way of his hopes of a high Australian Tertiary Admission Rank as he sets his sights on part-time university study next year.
Brumbies coach Stephen Larkham has thrown his faith in Lonergan's development.
"His understanding of the game is good, he's quite skilful and he's just got that understanding of how things work," Larkham said.
"Getting used to a professional program will be the biggest thing for him. He could be doing his exams when we start training, but that will be exciting for him. I think he's got the skills we need."
Lonergan is following in the footsteps of Joe Powell, who was a shock inclusion in the Wallabies squad for the Test series against England despite playing just eight games from the bench for the Brumbies.
"I've always looked up to Joe, so it's good to see how well he's going. It gives you confidence," Lonergan said.
"I've always wanted to follow his footsteps ... and it's good to know a few guys already in the Brumbies squad."
Lonergan will play for the under-18s on Saturday while Hyne suits up for the Vikings in a clash against the Gungahlin Eagles at Gungahlin Enclosed.
Hyne's Brumbies deal is reward for his decision to pack his life into his car at the end of last year and drive from Brisbane to Canberra to take a training chance at the club.
The Queensland Reds tabled an offer to the former carpenter, but Hyne wants to win a Brumbies debut.
"I was stoked with the Brumbies deal and couldn't be happier," Hyne said.
"It's what I came here to do, I've achieved it and hopefully I can keep chasing those goals. I'm completely happy with the decisions I've made to tough it out and be involved with the Brumbies. I want to learn my trade here."
JOHN I DENT CUP ROUND 10
Saturday: Gungahlin Eagles v Tuggeranong Vikings at Gungahlin Enclosed, Uni-Norths Owls v Easts at ANU North, Queanbeyan Whites v Wests at Campese Field. All games at 3.05pm. Royals - bye.
Chris Dutton is the sports editor at The Canberra Times.