Art review: Right here now at Museum of Australian Democracy
Right here now: A powerful regional voice in our democracy, Museum of Australian Democracy at Old Parliament House. Closes March 14, 2016, Daily 9am–5pm.
One of the recurrent themes in Australian art is the tyranny of distance with many emerging artists unable to leave their rural or remote communities to further their art training.
The Regional Arts Fund has provided funding for seven established artists to mentor, over a nine-month period, a local early career artist or, in one instance, a group of young artists. The results of this program are on display in an exhibition at the Old Parliament House.
The first and really positive impression is that it is not immediately apparent, in a number of instances, which work belongs to the mentor and which to the mentee. The second and equally important observation is that very few of the mentees make work that closely resembles the art of the mentor.
The artists involved are Brian Robinson and Jimmy Thaiday from Queensland; Chris De Rosa and Ebony Heidenreich from South Australia; Linda Botham and Bonnie Weidenbach from Victoria; Rick Ball and young Menindee artists collective from NSW, namely Taya Biggs, Jade Cicak, Neil Mitchell, Joseph Newman and Tahlia Philp; Raymond Arnold and Jessie Pangas from Tasmania; Chayni Henry and David Collins from the Northern Territory and Sandra Hill and Donna Fortescue from Western Australia.
There is a lively interest and visual excitement that runs throughout the exhibition, but a number of new names stand out, which is one of the important features of the exhibition. David Collins is a Darwin-based artist, who has been mentored by Chayni Henry, and comes from a spray paint street art background. His large, 240cm high metal sign carries a spray paint slogan commenting on John Howard's intervention policies in the Top End. Called White Cockies, the slogan simply reads "They fly in, squawk a lot, shit on you and fly out again." There is an effective combination of image and text with an in-your-face directness.
The Tasmanian emerging artist Jessie Pangas has been mentored and has worked closely with her mentor, an artist of national standing, Raymond Arnold. Both have been looking at and living in Queenstown on the west coast, a dirty mining town that had seen better days. Arnold organised in Queenstown LARQ (Landscape Research Queenstown), an artists-run initiative that had a life expectancy of a decade and which has wound up earlier this year. Arnold has presented a view of a building looking out of the window into the industrial wasteland, while Pangas is looking in, at the front of the same building, nestling behind its neat picket fence. There is a wonderful sense of harmony between the two pieces.
One of the pieces that is a real show stopper is Brian Robinson's Ari Puilaig (Maker of Rain). He is an Indigenous artist based in Cairns who creates these weird hybrid installations which mesh together Torres Strait Islander imagery with that of Baroque Catholicism. For me it appears like a Surrealist rain dance. Linda Botham and Chris De Rosa, both well known artists who appeared in the role of mentors in this project, also have two exceptionally strong pieces in this exhibition.
Of the emerging artists, Jimmy Thaiday, mentored by Robinson, Jade Cicak, mentored by Ball and Donna Fortescue, mentored by Hill, are all artists who are making fresh work of considerable promise.
This is an ambitious project and the early signs are that it is a runaway success. The art school model for training artists is one important possibility; mentorships and apprenticeships are much older models and on many occasions they are more fruitful.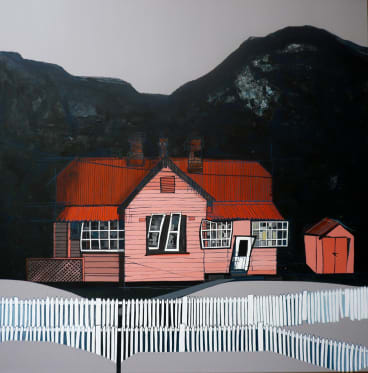 Most Viewed in Entertainment