Bubbly sisters don't scare easy - but their films do
The Soska Sisters, Jen and Sylvia, didn't conform to any kind of horror stereotype. For a pair who write, direct and produce horror movies, the 29-year-old Canadian twins were cheerful, chatty and bubbly, answering questions simultaneously and finishing each other's sentences, and saying hello and goodbye with warm embraces.
Not, perhaps, the sort of behaviour expected from the creators of Dead Hooker in a Trunk and their second movie, American Mary. The latter is screening as part of the Canberra International Film Festival tonight.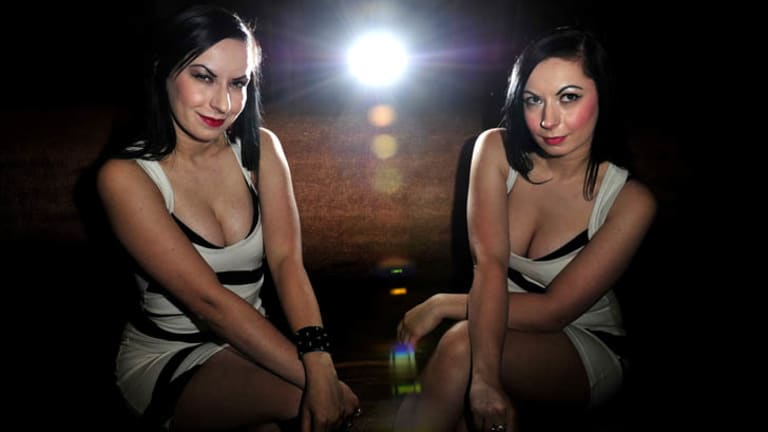 The sisters have been taking American Mary on the international festival circuit since June.
Of their first time in Australia, Sylvia said, "It's wonderful, really nice. Very similar to Canada, except for the accents of course."
American Mary is the story of an impoverished medical student, played by Katherine Isabelle, who immerses herself in the strange underground world of body modification.
Jen said, "The tone is really like Psycho. People see things that don't happen, that are suggested happen."
She adds, mock-innocent, "I thought it was a beautiful art film."
It's been a swift rise for the sisters, who started out their horror career as teenagers, telling spooky stories while working at a summer camp that gave their charges nightmares.
They worked as children and young adults in acting, stunts and modelling but decided they wanted to make their own movies.
Sylvia said, "We maxed out our credit cards" to make the microbudget Dead Hooker in a Trunk (2009), which started as a fake trailer and got them attention. Then came American Mary, with a higher budget, though still under a million dollars, for which their supportive parents mortgaged their house.
Fortunately, they quickly attracted the attention of Hollywood players like Eli Roth (Hostel), which helped their films find audiences. The Soska family home was safe.
And now they've finished their third film, the monster movie Bob.
Although they are making a name in the US, they still haven't made the move from Canada to California. Some things are just too scary, even for them.
For more information on the Canberra International Film Festival visit canberrafilmfestival.com.au
Most Viewed in Entertainment
Morning & Afternoon Newsletter
Delivered Mon–Fri.