Gimme five places to make a splash
This summer has been a scorcher. In search of ways to keep cool, Tegan Osborne decided to give the ACT's swimming holes a look. Here's what she found.
Kambah Pool
I've heard many rumblings about Kambah Pool being a nudist haunt since I arrived in Canberra. So I set out to see what all the fuss was about. There are three distinct sections – Kambah Pool Beach, the Rock Pool and the famed nudist beach. To get to the rock pool and the nudist beach where the water is fast moving, you turn right off the main road. You can't stumble upon the nudist beach by accident – there's two great big signs warning you of what's to come. What happens at the nudist pool should probably stay at the nudist pool, I suppose. I did pay a visit. It exists. It is well-populated. Upstream, Kambah Pool Beach is a lovely spot for a dip if you prefer slower moving water. I met a group of teens there in miniature rubber duckies who had plans to paddle downstream all the way to Casuarina Sands. Word of warning – there's a rocky ascent to all three sections. Bring shoes.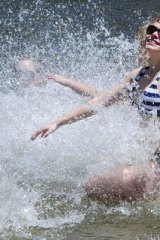 Lake Burley Griffin
When I told my work colleagues I was going to brave the great LBG and take a dip, I was met with unanimous screams of horror. What about the algae? Was I taking an industrial supply of hand sanitiser to swathe myself in afterwards? I approached the expedition with misgivings (to say the least) but was actually pleasantly surprised. A friend and I paid a visit to the beach at Alexandrina Drive near the Elizabeth McKay aquatic centre in Yarralumla (a canine-free zone, sadly). I have photographic evidence that my lake swim happened (not for publication, just for gloating). Steeling myself for skin irritation, I took the plunge and swam out to one of the two pontoons. I emerged feeling triumphant but was quickly put to shame by a several five-year-olds with parents, who jumped in without a flinch. Although my accomplice couldn't be persuade to join me, I have to say it was totally fine. On a hot day, I'd do it again.
Pine Island
About 2.5 kilometres from the Hyperdome, Pine Island Reserve is surprisingly close to Tuggeranong's town centre. I like to imagine that during summer it would be inhabited by public servants from the nearby Department of Human Services building on their lunch breaks. I'm not sure if this is the case, but if not it's a missed opportunity. There are two places you can swim – Pine Island South and Pine Island North. Pine Island South has a sandy, pebbly beach and was frequented by sunbathers when I visited on a Saturday afternoon. Pine Island North was populated by group of giggling teens that day. But the water was less of a hike to get to. There are barbecues, tables and loos. No doggies though.
Casuarina Sands
This is my favourite ACT swimming hole, by a long shot. It's quiet, cool and the water is deep enough to go for a really good swim. It's a little further out of town, about 11 kilometres further down the Cotter Road, west of Stromlo Forest Park. But it's worth the drive. Take a book and a tyre inner tube. I visited on a Thursday evening. There was an assortment of tourists in campervans, a father and son going for dip, men who'd been working at the nearby Cotter Dam earlier in the day and some teens cooling off near the rocks. Again no dogs are allowed (for good reason of course – it's our drinking water), which my Jack Russell and I learnt the hard way. He was most unhappy and cried all the way home.
Uriarra Crossing
The one thing Uriarra Crossing has going for it that most other ACT swimming holes don't, is that dogs are welcome. Located an easy 15 kilometres north-west of Weston Creek, there are three different spots for a dip here – Uriarra Crossing East, Uriarra Crossing West and Swamp Creek. All three have loos, picnic tables, wooded barbecues and an abundance of parking. But Uriarra Crossing East is the most inviting option, particularly if you have kids. Very little trekking is required to get to the water, and the recreation area has lots of shade and grassy stretches for cricket games and other such picnicking shenanigans.
What's your favourite spot for a dip in Canberra? Got a secret swimming hole to share? Leave your comments below.