Art concerned with the interface of land and farming
Land trace: paintings and sculpture. By Wendy Teakel. Beaver Galleries, 81 Denison Street, Deakin. Until June 10.
Wendy Teakel has been associated with the Canberra School of Art since 1985 and last year retired as head of its sculpture workshop. Many of her peers retired much earlier to ease into professional full-time studio practice. Teakel, now in her early 60s, is presenting something of a transitional exhibition.
As an artist, Teakel has always been concerned with the rural environment in which she has lived for most of her life – from the Riverina in her childhood and adolescence, to a rural property on the outskirts of Canberra, where she has lived for many years. Her art has for many decades been concerned with the interface between the land and farming and the traces and scars that the land carries after its centuries of occupation.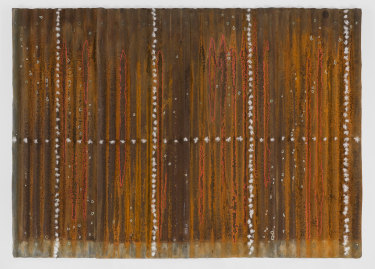 As an emerging sculptor, Teakel was attracted to the ideas of John Davis, a pioneer of environmental sculpture where the elements of nature became the artist's primary materials and in this sense "nature" was permitted to create a self-portrait where it could express itself in its own terms. Many decades later, Teakel is still turning to the materials at hand and through this act of bricolage she creates quite elegant constructed pieces.
Rusty sheets of corrugated iron, discarded fencing wire, rabbit fur and grasses are combined with more conventional art materials including acrylic paints and pastels. In this sense, they are hybrid pieces in which the artist's aesthetic is allowed to stamp a resolution on the work conscious of its existence as an art object. This is in contrast to artists, like John Wolseley, who see nature as an equal and active collaborator that is given voice and an omnipotence in the development of the work.
The strongest piece in the exhibition is the somewhat sprawling and untidy Paddock remnant, where on a series of suspended corrugated iron tableaux appear traces of grasslands, rust and colour. Suspended on wire frames, which appear fragile and uneven, this floating paddock has an effective kinetic quality as if swaying in an imaginary breeze. The simplicity of construction and the transparency of means gives this piece a matter-of-fact existence, not forced or willed into being, but simply stating its presence.
Of the corrugated iron wall pieces, the large Microclimate II is one of the most effective. The rust manipulated by pastel creates an organic rippling surface over which is imposed a grid made out of rabbit fur protruding out of holes that appear almost like bullet holes in the metal. This is like the meeting of two systems of landscape – the natural order that exists and the superimposed order of possession and regimentation. Part of this series was exhibited in this year's Sculpture by the Sea at Bondi.
Many of the other pieces at the exhibition consist of plywood or birch panels that have been painted in what appears as grid-like patterns and this is contrasted with the burn marks or pokerwork created by heated strands of fencing wire that has been allowed to leave its burnt traces on the surface. A piece such as Gridspace II demonstrates both the strength and weakness of this approach with subtle and interesting shapes somewhat subverted by the prettiness of the overall conception.
Wendy Teakel is one of Canberra's senior artists who is presently transitioning into full-time studio practice after a lifetime of teaching.