Australian Sports Commission represent Australia in JP Morgan Chase Corporate Challenge
FOUR Australian Sports Commission staff will travel to London in July to take on bankers, engineers, insurers and prison guards as they represent Australia in the JP Morgan Chase Corporate Challenge.
The commission entered the challenge for the first time last year and blitzed the national field in Sydney, but the real race against the clock came before the starting line.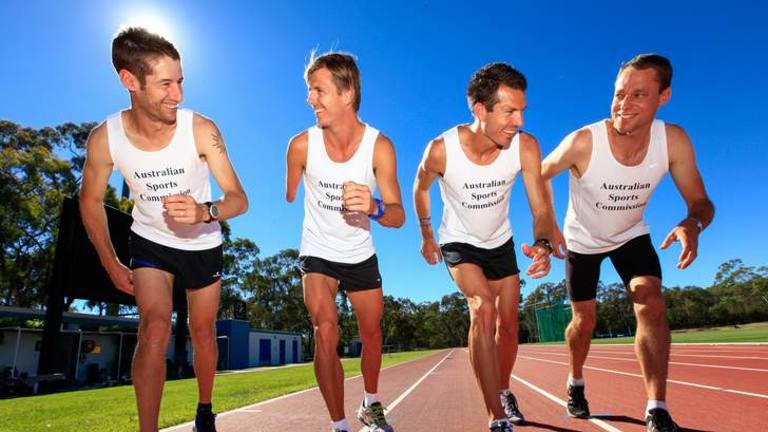 The challenge - in its 13th year in Australia, and 37th internationally - puts businesses head-to-head in a 5.6 kilometre run. Each company's top four times are added together and the fastest company wins a trip to the international challenge.
Philo Saunders, a sports scientist, running coach and one of Australia's top 1500-metre runners, spearheaded the commission's entry into the national challenge, along with one of his athletes, Paralympian Michael Roeger.
"I … started off with seven or eight guys at a reasonable level [but] for whatever reason it dwindled down to only four of us on the day," Dr Saunders said.
While the average business had 25 runners on the start line, the ASC was down to five runners the week before the race late last year; then one got a new job, and Andrew McGowan's second child was running late to be born.
"It was a bit of a touch-and-go situation," Mr McGowan said.
"She was due around the week beforehand, so [my wife and I] basically had a little agreement that if the baby had come at least 24 hours before, I could go up to Sydney and if not, obviously … the team would have folded.
"She was born about five o'clock Tuesday morning and we left for Sydney at lunchtime on Wednesday."
With adrenalin still pumping, Mr McGowan finished in 20th place out of the 8125 entrants while Dr Saunders came first and Roeger was second.
The ASC team qualified third fastest for the international competition with a combined time of about one hour, 12 minutes, but it is the two amateurs who hold the key to winning.
"I think we can go better in the international one," Dr Saunders said. "Andrew and Gareth [Candy] … have a bit more range to improve with a bit of training, so I think they'll really target it.''
Fleta Page is a journalist at the Sydney Morning Herald. She was previously a sports and general news reporter at The Canberra Times.