C3 Church Monash and Canberra Raiders help build a garden for brave Freyja Christiansen who is battling rare cancer
The amazing community spirit that we know is the real Canberra has shone brightly again, for a very brave and very ill little girl.
Members of the C3 Church Monash and the Canberra Raiders were among the volunteers undertaking a special project for six-year-old Freyja Christiansen.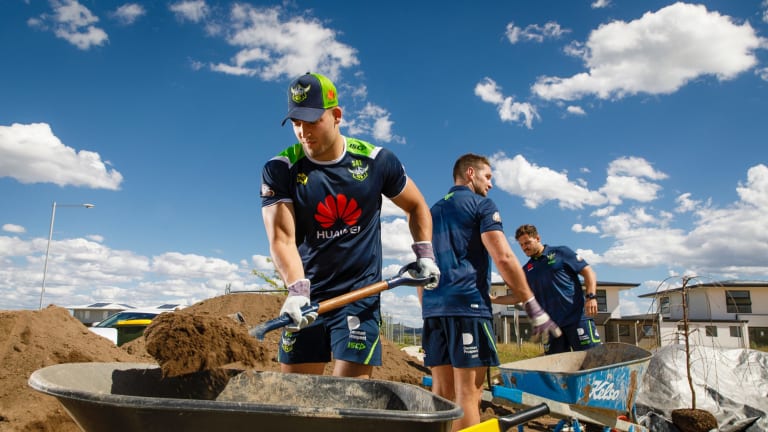 The big-hearted workers are creating a new garden for Freyja and her family at their home in Denman Prospect.
Six-year-old Freyja is with her mum Lizzie at the Sydney Children's Hospital for an infection - just another battle for the little girl who has a very rare and life-threatening cancer in her neck, a clear-cell sarcoma.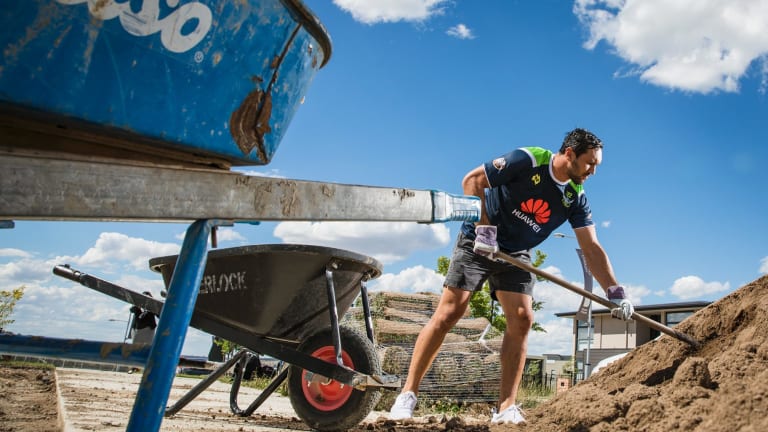 The garden us a surprise for Freyja when she returns home next, hopefully next week.
Lizzie said she met with members of the church, which is attended by friends of Freyja's at her school, Yarralumla Primary.
They plan to put in grass, trees and plants, making paths, a cubby for Freyja and her sisters, Inge and Brynn, and a home for Freyja's rabbit, Cottontail.
There will also be a "healing garden" of fruit trees, vegetables and herbs, something Lizzie, who cooks all organic food for her daughters, most appreciates.
"They said, 'This is our Christmas gift to Freyja," Lizzie said.
"And, oh my gosh, I was just in tears.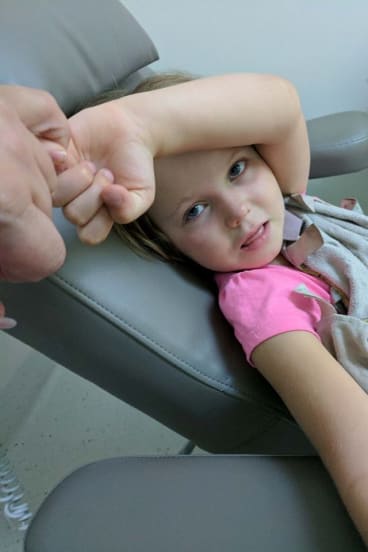 "They felt it was something they could do to help and they really understood what Freyja needed.
"Somewhere simple, quiet, safe - just somewhere she can relax and be a little girl. Go into the cubby house and have a chat to the fairies, because she still believes in fairies."
Natalie Kingston, a member of C3 Church Monash, is also friends with Lizzie and her daughters.
"Over the next two weeks, our church is conducting a campaign called Love Canberra which is encouraging people to go out and do an act of random kindness that people would not be expecting," Mrs Kingston said.
"I picked the garden for my project but I would have done it anyone. It's a whole community coming together to make it happen."
The Raiders who helped with the garden on Thursday were captain Jarrod Croker, Nick Cotric, Jordan Rapana and Aiden Sezer.
They got a good workout moving wheelbarrows of soil and laying turf.
Lizzie and her supporters are closing in on their goal to raise enough money to send Freyja overseas for potentially life-saving treatment.
She will first have surgery at the Chris O'Brien Lifehouse, a cancer treatment centre named in honour of the late surgeon Chris O'Brien.
Those costs are being covered which means a step close to getting the proton treatment in Europe. Australia will begin a trial of proton therapy in 2020. Freyja's health is too fragile to wait that long.
"We're now $53,000 short, which is a lot better than being $243,000 short, which is where we were," Lizzie said.
If you would like to donate to help Freyja, go to https://www.acureforfreyja.com/how-to-help
Megan Doherty is a reporter for The Canberra Times
Morning & Afternoon Newsletter
Delivered Mon–Fri.