Canberra Beer Runners Club launches in Canberra
If bribery is what you need to get out and moving during winter, would a whole group of fellow runners and a beer at the end do the trick?
The new Canberra Beer Runners Club offers exactly that - a group run in a relaxed setting with likeminded people, ending at a bar or pub for a celabratory drink.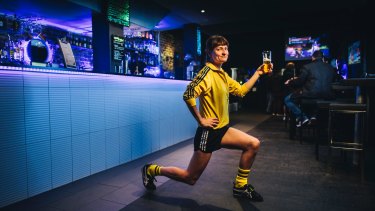 The club's founder Fiona Harris only got into running herself last year during a rough period in her life.
"I was working in the APS in a job that I did not find fulfilling. I bought a gym membership but I wasn't going to the gym. I was putting on weight and I was feeling lethargic and uninspired. And to top it off my beautiful mother-in-law lost her battle with cancer," she said.
"I looked at myself honestly in the mirror and I just thought, 'this is not who I am, and it's not who I want to be'. So I started going to the gym and running on the treadmill and feeling so fantastic afterwards that I started to research what happens when we exercise and particularly when we run.
"You're getting endorphins, a bit of a dopamine hit, your cardiovascular system is being engaged, your whole body is moving, it's a natural high. And you can get it for free, you don't necessarily need to do it at a gym."
Inspired by the Fishtown Beer Runners in Philadelphia, Harris has launched the Canberra Beer Runners Club, to bring together likeminded people and help others get out and moving.
If you're excited by the brew but less so by the run, Harris said the group is relaxed and approachable no matter your fitness level, or lack thereof.
"It's completely casual. And I'm hoping that people who are just starting their fitness journey come because something I learned about myself last year is just how easy it is to get fit. So it's not hard and you feel so good afterwards. And there's beer," she said.
The first group run is on Thursday May 4, meeting at the merry-go-round on City Walk. After a group warm up, runners will be led along a 1.5-kilometre route and end up at Reload Bar and Games.
Runs will be held monthly, with plans to expand in the warmer months depending on demand, and will move locations to a different meeting point and final drinking hole each time.
Participation is free, but you must register attendance online at facebook.com/CanberraBeerRunnersClub. The first event quickly booked out, but 30 additional spots have been released.
Each event will also raise money for a Canberra cause or charity through donations collected at the bar, with the first event supporting the ACT Greyhound Support Network.