The director of a government-backed manufacturing agency has said the ACT could take the lead in recycling by adopting a new technology converting waste into reformed materials.
Advanced Manufacturing Growth Centre state director Michael Sharpe said Canberra adopting the waste technology could see it spread into other Australian jurisdictions.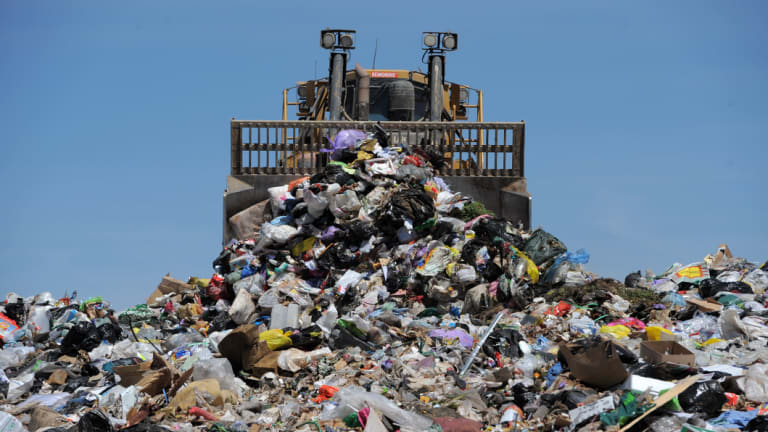 "It's a big opportunity for Australian manufacturing to look at using waste streams and then developing new products to be then exported to the world," Mr Sharpe said.
"Rather than exploiting our waste, we can use that in Australian-made products here, which can help to lower the costs for recycled plastics in using the new technology."
As part of the new technology, developed with the help of the University of New South Wales, recycled containers and materials would be placed alongside similar items and converted into items such as metal alloys, plastic filaments and glass panels.
Mr Sharpe said the microfactories would operate differently to facilities where waste materials would be burned together.
"We're able to adjust the temperature, so it's not just throwing them all into the one furnace," he said.
"By controlling the temperature of the recycling process, we're able to extract metals and the right kind of metals from the waste."
The state director said there had already been large levels of interest in the technology.
"It's a great opportunity for Australia to get on board with the new technology," he said.
"It's a very big benefit to many in particular and we are able to extract more value from our waste."
Mr Sharpe's comments come as UNSW calls on the ACT to dump plans to burn rubbish in a submission to the territory government's waste feasibility study.
While the university said it supported most of the government's recommendations, it did not support a waste-reduction solution of burning waste.
Plans for such a facility in Fyshwick were scrapped earlier this year after the company behind the project, Capital Recycling Solutions, said they had come to the conclusion the government wouldn't approve it.
UNSW sustainable materials research centre director Professor Veena Sahajwalla said incineration should not be considered an option to meet the ACT's waste targets.
"Part of the solution is not to incinerate waste for energy but instead should be to reform the components of waste into valuable materials as inputs for manufacturing for existing and new products which then also provides a boost for the local manufacturing industry and economy," Professor Sahajwalla said.
"The process of burning waste to create energy means that recyclable materials are lost forever as renewable resources. Metals can be re-purposed over and over and even many plastics can be reformed and reused a number of times."
Andrew Brown is a journalist at the Sunday Canberra Times. Andrew has worked at the Canberra Times since 2016.