Good morning, Canberra.
Welcome to Wednesday, I hope your morning involves getting a coat and brolly ready to go - the bureau says there is a near 100 per cent chance of rain. We're heading for a top of 20 degrees today and expecting 15 to 25 millimetres.
Let's have a look at what's making news today.
Canberra's oldest cinema turns back into lecture hall
It's a lecture hall by day, and Canberra's oldest cinema by night.
But at the end of the month, the lights will go down at the Australian National University's Coombs Theatre for its very last film screening.
The ANU Film Group, which has been showing movies in the hall since 1968, will move to a new 300-seat cinema when it opens next year as part of the university's multi-million dollar redevelopment of Union Court.
Sherryn Groch has the story here.
Canberra prison's 'halfway house' to be upgraded
Canberra prison's "halfway house" is set for a major expansion to accommodate a spike in detainee numbers.
The jail's health centre will also be upgraded, as the ACT government implements a key recommendation of a review sparked by the death of an Aboriginal inmate in 2016.
ACT Corrective Services is calling for expressions of interests from private firms to design and deliver a raft of refurbishments at the Alexander Maconochie Centre, as well as an upgrade to the jail's non-compliant sewerage system.
Dan Jervis-Brady has the details here.
Yass nurse wins Fashions on the Field
Yass resident Alison Jones wasn't letting anyone get in the way of her winning the Fashions on the Field competition at Thoroughbred Park yesterday.
Jones was the runner-up in the 2017 competition and "definitely dressed to win" this year in a second-hand soft tulle dress she found on Facebook. It worked.
Bree Winchester has all the fashion highs and lows here.
Arboretum hotel site to hit market next year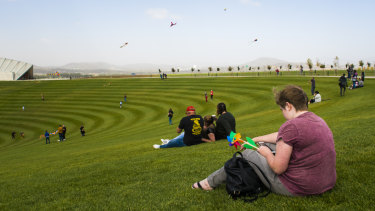 A site earmarked for a hotel at the National Arboretum will hit the market in 2019, with ACT Chief Minister Andrew Barr signalling he will try and attract international bidders to the sale.
Mr Barr told an annual reports hearing sites for future accommodation at the arboretum and Stromlo Forest Park were among those he was seeking foreign investment in, citing his role in the recent sale of the Molonglo Group's Hotel Hotel to Hong Kong hoteliers Ovolo Group.
Katie Burgess has the story here.
Opera star hits wrong note with 'spineless creep' British nationalist
When Helena Dix left the stage in triumph after performing in one of opera's most important roles, she might have thought she could do nothing wrong.
Who wouldn't applaud her magnificent performance as Norma in Bellini's opera of the same name?
The reviews were glowing: "superb breath control, a strong sense of line", "her voice at its creamiest has allure, grace and poise".
And then she logged on to her email.
Steve Evans has what happened next here.
Today's cartoon: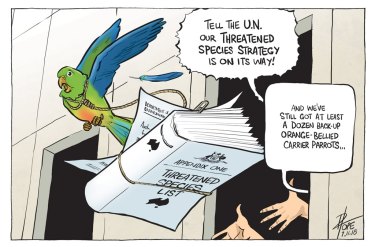 Today's weather
Sally Whyte is a reporter for The Canberra Times covering the public service.