Duntroon to have first female commandant
Brigadier Dianne Gallasch has been named as the first female commandant of the Royal Military College, Duntroon, in the institution's 102-year history.
Brigadier Gallasch joined the Australian Defence Force in 1984 when female officer recruits still underwent segregated training under the now defunct Women's Royal Australian Army Corps (WRAAC) officer cadet scheme.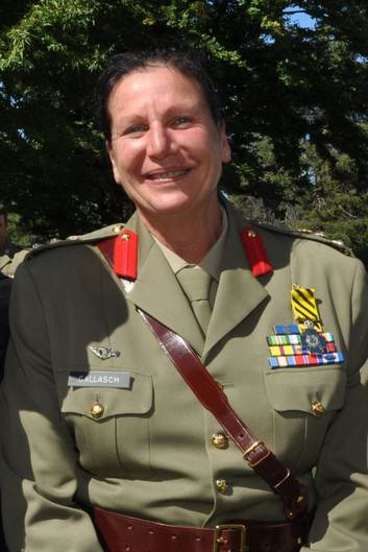 Chief of Army Lieutenant-General David Morrison congratulated the brigadier on her appointment on Friday, saying she was ''one of many exceptional women within the Australian Army''. He said the brigadier's 29-year career had been a distinguished one and that officer cadets would benefit from her experience and leadership.
''She is the best officer for this demanding job of preparing army's future leaders,'' the general said.
Brigadier Gallasch will take over in July from Brigadier David Luhrs, who has held the post since January 2011.
After receiving her commission in the early 1980s, Brigadier Gallasch was posted to the Royal Australian Army Ordinance Corps.
In 2003, while deputy commander of the Force Logistics Support Group and commanding officer and chief instructor of the personnel support division at the Army Logistics Training Centre, the then Lieutenant Colonel Gallasch was made a member of the Order of Australia.
Her efforts as the director of general support at Bungendore's Headquarters Joint Operations Command were acknowledged with the Conspicuous Service Cross in last year's Queen's birthday honours list. The award was presented on Friday at Government House.
Brigadier Gallasch's appointment comes at a time when the ADF is tackling issues of gender equality and the treatment of female members head on. The way is now open for women to serve in all roles in the military, so long as they can demonstrate they are physically capable. There is a push to attract more female recruits to meet staffing targets in the years to come.
Until 1985, women wishing to become army officers were not able to enrol at either Duntroon or Portsea, the two colleges that had been established to train officer cadets.
They had to undergo separate training at the WRAAC's officer cadet school, an all-female ''army within the army'' that had been established in 1951 during the Korean War to overcome a defence shortage.
It was not until the 1970s that female soldiers began to be integrated into the army at large and the last officer's cadet school parade took place on December 6, 1984.
Integrated officer training became a reality in 1985 when female cadets enrolled for the last course to be conducted at Portsea. From 1986 on, female officer cadets attended the new Australian Defence Force Academy and Duntroon, just like their male counterparts.
Of the 68 students who graduated from Portsea in December 1985, just 13 were female.