Early design of new Canberra convention centre released by architects Guida Moseley Brown and Massimiliano Fuksas
It's Canberra's UFO-inspired convention centre of the future - if someone can cough up the $500 to $700 million to build it.
Local architecture firm Guida Moseley Brown and Rome-based architect Massimiliano Fuksas have been chosen to develop a preliminary design of what a new and expanded convention centre might look like.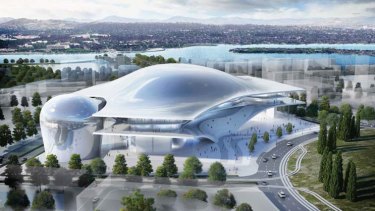 A nine-member judging panel unanimously chose their futuristic design, described as offering "poetic and sculptural treatment of architectural form", from among seven entries.
But a more specific design could look very different once future funding restraints and other restrictions come into play.
Last year then-treasurer Andrew Barr described a government-built and operationally-outsourced centre as in the realm of $400 million - up to $300 million short of Guida Moseley Brown and Massimiliano Fuksas' early vision.
Chief Minister Barr said the selection of the initial design was an important milestone in making the new convention centre investment-ready.
"The next step is for the winning architects to work with the ACT Government, industry and stakeholders to finalise a reference design and business case for the centre," he said.
The Monday evening announcement of the design appointment coincided with the release of a Canberra Business Chamber and Canberra Convention Bureau-commissioned report about the significant returns a new centre would inject into the ACT economy.
Canberra Business Chamber chief executive officer Chris Faulks said the report, Australia Forum - and its Potential Economic Benefits, completed last month, revealed a new convention centre would deliver a "conservative" benefit cost ratio of 2.4 over two decades.
This means that for every dollar invested in the convention centre, $2.40 would go back into Canberra's sluggish economy.
She said the expenditure of delegates attending events at the centre was estimated at $3 billion in the first 20 years, $1.6 billion more than the current convention facility is expected to produce.
"Economic returns on offer from the Australia Forum could be even higher than the BCR suggests, as it does not take into account additional inputs to the local economy from people accompanying conference attendees or the boost to tourism from extended stays and people returning for a holiday in the future," she said.
It all comes to nothing if the government won't fund it.

Brendan Smyth
"The Australia Forum will also likely drive new accommodation infrastructure projects ... help position Canberra as a leading business events destination, underpin demand for international flights and position Canberra as an innovative, knowledge-based economy."
The proposed centre received a $1.5 million boost in last year's ACT budget, while a further $8 million has been allocated in forward estimates.
An under-used part of City Hill, now part of a city carpark facing Parkes Way, is earmarked for the proposed centre and is central to the government's vision for a transformed Canberra CBD with better access to Lake Burley Griffin.
Ms Faulks welcomed the progression of the project and said it was important the ACT Government finalised a business case around a functional design before working on funding models.
"We'd like this to happen in the next 12 to 24 months so it's built sooner rather than later - we're actually missing out on some really good events," she said.
However, she emphasised the centre's projected economic return ratio of 2.4 was not comparable to Capital Metro's ratio of 1.2.
"The convention centre is an economic driver that needs to be compared to other convention centres. The 1.2 for the light rail project is in the normal range for a social project like that," Ms Faulks said.
Canberra Liberals business and economic development spokesman Brendan Smyth also welcomed the project's next step but said the Chief Minister should announce "how much he is willing to back the centre in cold hard cash".
"The real question is how will the government fund the project, or is it just doing something for appearance's sake," he said.
"It all comes to nothing if the government won't fund it."
Mr Smyth said the Canberra Liberals had been pushing for a new centre since 2006.
"Almost nine years later we're yet to turn the sod on building this thing," he said.
Emma Kelly is Canberra Times reporter.