Heath Ledger's life in art to be on show in Canberra
He was a larrikin and a movie star, an artist and a pin-up.
But most of all, Heath Ledger was a Perth boy who made it big, and left behind an archive of stuff from a rich but all-too-short career.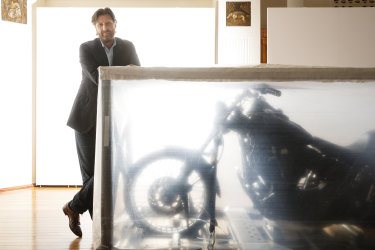 Canberra fans will soon have the chance to see some of Ledger's stuff up close, when a new exhibition about his life in movies opens at the National Film and Sound Archive in August.
The show will feature film costumes and props, celebrity portraits, personal souvenirs and awards, including the Oscar Ledger won posthumously for his role as the Joker in The Dark Knight.
The exhibition was first hosted by the Art Gallery of Western Australia to mark 10 years since the 28-year-old actor died in New York City in January 2008.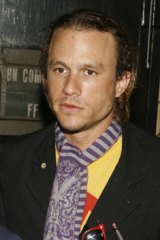 It's not due to open in Canberra until August, but curators were already busy this week unpacking some of the larger items that will be going on show, including one of Ledger's motorbikes.
Exhibition project manager Fred Saunders said there was plenty in the show to keep old and new fans happy, including the costume he wore in Brokeback Mountain, and The Imaginarium of Doctor Parnassus, the film he was making when he died.
"Then we have things that reflect his personal passions and creative passions outside acting," he said.
"A lot of people may not know that he was a chess master, close to being ranked a chess grand master when he passed away."
Archive director Jan Muller said he knew as soon as he saw the show in Perth year, that the Canberra institution needed to host it next.
The archive's exhibition program has been dormant for the last four years, as the institution dealt with budget issues and staff cuts.
But Mr Muller said this exhibition would be the best way to reignite the institution as a local and national destination.
"Given the fact that for us it's important as an archive to be visible and to show the world what we've got, what audio-visual heritage is all about, I thought this is a very interesting opportunity to actually become visible and present something like this," he said.
The archive will also run a program of events and screenings throughout the exhibition's six-month run.
Mr Muller said Ledger still had legions of fans, and he hoped the show would attract a younger audience to the archive.
"This man is a screen legend in a way, but also simply a lovely, local Australian hero, I would say - just a boy from Australia," he said.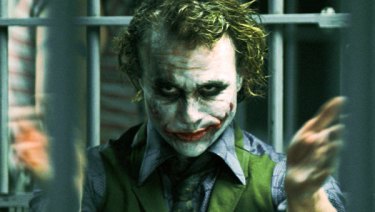 He said his favourite part of the exhibition were the research journals Ledger kept as he tried to understand his characters more deeply.
"They're handwritten notes, so it's really amazing ... I think it sort of sums it all up," he said.
"It shows his passion, his total, almost absolute, devotion to everything he did in his artistic life.
"The exhibition is not just about what he achieved as an artist, but also what he brought to us as the creative artist that he was. He was an actor, but he was also a director, a photographer, a musician, he was even an amazing chess player."
He said Ledger's family had been closely involved with putting the show together; Kim Ledger, Heath's father, is on the archive's board, which helped when determining how the show would travel across the country.
Heath Ledger: A Life in Pictures will be showing at the National Film and Sound Archive from August 10, and will run for six months. Entry is free.
Sally Pryor is a reporter at The Canberra Times.