Kerry-Anne Cousins' top five Canberra craft shows of 2017
This year has been a year of anniversaries. It is the 10th anniversary of the highly successful artist-in-residence project at Namadgi National Park marked by a survey exhibition of past and present participants at Craft ACT in May.
The Canberra Spinners and Weavers (CSW) marked 50 years of their flourishing organisation with an exhibition of work from those years at the Canberra Museum and Gallery.
It has been 10 years since the establishment of the Canberra Glassworks in the Kingston Power House and 40 years of the well supported Emerging Artists Scheme (EASS) at the ANU School of Art and Design.
As always it has been difficult to choose my five best shows of 2017.
They are a personal choice of some of the exhibitions I enjoyed during the year. Among the top five it would be hard not to include exhibitions by Kirstie Rea and Neil Roberts, two notable Canberra artists.
The land: A 20 year survey
Kirstie Rea's The land: A 20 year survey in August at the Canberra Museum and Gallery (CMAG) was a very important exhibition. The beautiful staging of the exhibition at CMAG did justice to a dedicated artist who has pushed the boundaries of glass and contributed a great deal to the studio glass movement. In a series of stunning works Rea demonstrated the diversity of glass as a medium as she explored its potential to move across the visual art spectrum from object to sculpture to installation. And as always the inspiration of the work was the landscape.
Chances with Glass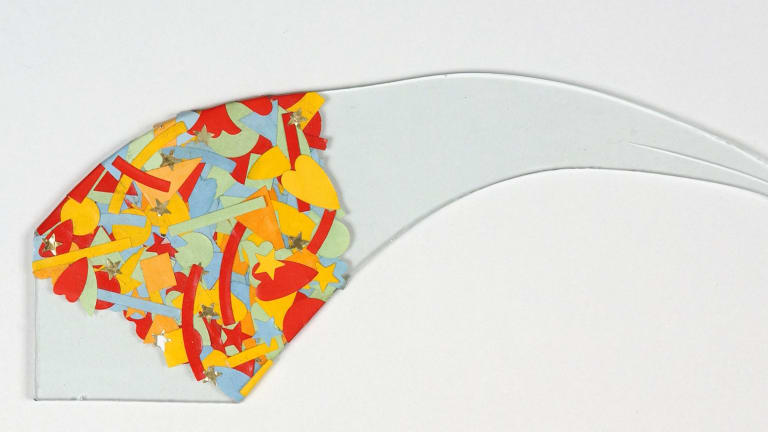 Neil Roberts' exhibition Chances with Glass at the Canberra Glassworks in August was curated by his partner and trustee of his estate Barbara Campbell, herself a well-known artist. Neil Roberts died tragically in 2002. It was quite a small exhibition but it was carefully chosen to reflect pivotal works in Roberts' career. I still think of his wonderful irrigation sculpture Flood Plain 1990 that was sited on the Nerang Pool in Commonwealth Park during Floriade. The talk given by Barbara Campbell at the exhibition was illuminating and after seeing his work again I felt I had a deeper understanding of an artist whose life and work touched so many people. Hannah Quinliven's installation, Anatomy of a drawing at Canberra Museum and Gallery in July was in the glass-sided Gallery 4 at the entrance to the building. It was one of the best works I have seen in this gallery that can overpower a lot of the art exhibited there. Quinliven used all this space judiciously and thoughtfully to construct a large network of textile threads that was woven between wall and ceiling until a dense mass of interlacing weavings was achieved – a three dimensional drawing in space.
The Rubies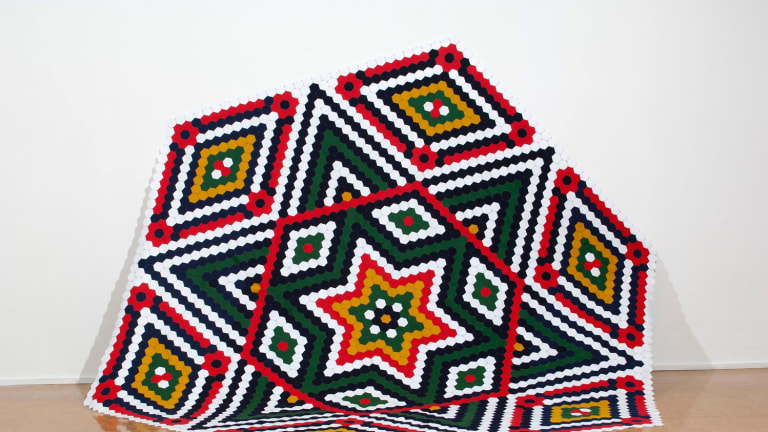 The Rubies at the ANU School of Art and Design Gallery in August was an impressive celebratory line-up of 16 of the many artists who have been recipients of an Emerging Artist Support Scheme Award (EASS) in their graduating year at the School of Art. What happened next after graduation was what made this exhibition so interesting. The work chosen was as varied as Camille Serisiers' video Ladies of OZ and Daniel Edward's felt quilt Empire. The majority of these artists now work away from Canberra so, as well as their historic link to the art school, the exhibition was an insight into contemporary art practice.
Bro..och
Bro..och at Bilk Gallery in June was another instance of bringing together a group of artists both from Canberra and interstate. Bilk Gallery is passionate about encouraging us all to wear contemporary jewellery. With this in mind there were brooches to suit the extrovert or the more conservative among us - brooches we wear and brooches that wear us. And who could forget Trophy Wife Barbie brooch "Wilhelmina" by Annelies Hofmeyr?
I have been restricted to five exhibitions but I feel the need to mention two other exhibitions of note. Dianne Firth's exhibition of poetically conceived quilts Poetry and Place in August at the Belconnen Art Centre and Presence: Two Visions of the Landscape at Form Gallery, Queanbeyan in October. Firth's quilts were in response to poems about the Canberra environment by both local and international poets at the Poetry on the Move Festival, 2016. In Presence: Two Visions of the Landscape, artist Claire Primrose made vivid paintings and drawings of the mountain landscape around Canberra and Ros Auld conveyed that same majesty of the landscape in her large and monumental ceramics. The work of these two artists were in perfect harmony in the exhibition, enabling the viewer to move between ceramics and paintings effortlessly.
Morning & Afternoon Newsletter
Delivered Mon–Fri.