'She was born here': Skywhale creator wants balloon back in Canberra
The Skywhale is coming back to Australia after wowing crowds as far afield as Japan, Ireland and Brazil.
However, it may be some time before fans of the spectacular and sometimes controversial balloon see it flying over the shores of Lake Burley Griffin.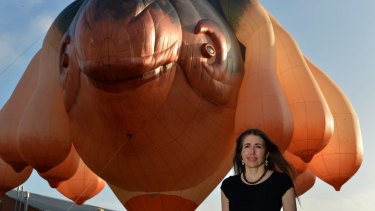 Created at a cost of around $300,000 for Canberra's 2013 centenary celebrations, the Skywhale has been in hot demand as an art installation over the past two years.
It has featured at the Trans Art Tokyo festival, Ireland's Galway Arts Festival and has had lengthy displays in the Brazilian cities of Sao Paulo and Rio De Janeiro.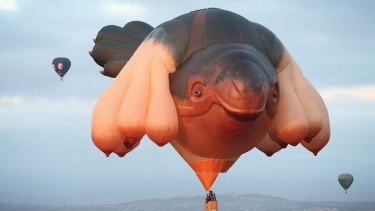 Although the balloon has attracted considerable international attention, Canberrans have not always been so keen on it.
Events ACT confirmed the Skywhale would not feature at the upcoming Canberra Balloon Spectacular but creator Patricia Piccinini said she hoped it would be back soon.
"She's on her way back home now and I'm really excited," Ms Piccinini said.
"My dream is that she comes back to Canberra one day. The Skywhale is all about Canberra. She was born there.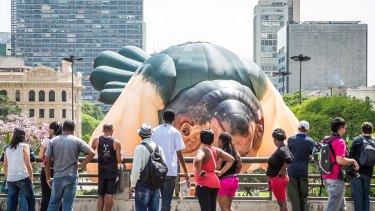 "My dream is for her to come back one day and fly over Lake Burley Griffin."
The balloon was being shipped from Brazil back to Melbourne, where it was owned by the Global Ballooning company.
Global Ballooning director Kiff Saunders said, although the balloon would miss this year's festival, he would be open to taking it back to Canberra in the future.
"It won't make the festival this year but it has certainly got a long and fruitful life ahead of it. It's certainly got a lot of life left in it.
"[But] it's a commercial prospect for the festival.
"There are obviously costs associated with it…and the festival needs to weigh up these factors."
The Canberra Balloon Spectacular will be held over nine days from March 11 to March 19 on the lawns of Old Parliament House.
Each year, Events ACT asks interested pilots to register to fly at the event. They are due to announce the attractions for the 2017 event in the coming weeks.
Steven Trask is a reporter for The Canberra Times