Sun hasn't set on Kamberra Winery's ambitious plan
The disused Kamberra Wine Company may not be making wine at the moment but it is still creating a buzz.
The roof of the winery on Northbourne Avenue in Lyneham is home to almost 800 solar panels, capable of generating more than 200,000 kilowatt hours a year, enough to power 20 houses for 12 months.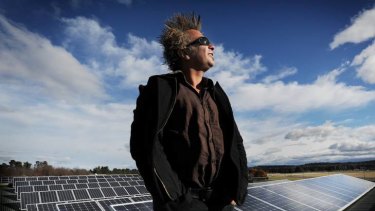 It is believed to be the largest privately-owned solar power system commissioned in the ACT.
The project is the work of SREC Elvin, a joint venture between the winery owner, the Elvin Group, and the Sustainable Renewable Energy Company, a developer and operator of renewable energy power stations and supplier of solar equipment.
The Elvin Group, a Canberra construction company, was started by Tom Elvin and is now run by his sons, Craig and Vic.
The company bought Kamberra in 2007.
Elvin Group managing director Barry Innes said the company was currently restricted to feeding the electricity generated by its solar panels into the main grid.
But its aim was to harness the electricity generated from the Kamberra site to power its ready-mix concrete plants at Hume and Mitchell.
SREC Elvin ACT manager Eddie Mior said the Kamberra winery was in the perfect spot to showcase renewable energy options.
''It's positioned right at the entry of Canberra, opposite the showground, so we're able to show off Canberra as Australia's solar capital,'' he said.
ActewAGL general manager asset management Stephen Devlin said the capacity of the installation at Kamberra winery was 146 kilowatts.
''ActewAGL is investigating opportunities to streamline the application and connection process for solar PV generators to the electricity network, including options for standard connection systems.''
Meanwhile, Mr Innes said there were also plans to eventually process wine on the site again.
The Elvin group revealed in 2010 it was also planning a $15 million boutique development comprising a hotel, restaurant, pub and mini-brewery for land adjoining Kamberra's Lyneham headquarters.