Veteran Affairs to trial using assistance dogs to treat defence personnel with PTSD
Michael Brideson sought many treatment options for post traumatic stress disorder after he left his job as a firefighter.
The Downer resident took time off work in 2011 following an incident that brought on PTSD, before retiring from the profession two years ago.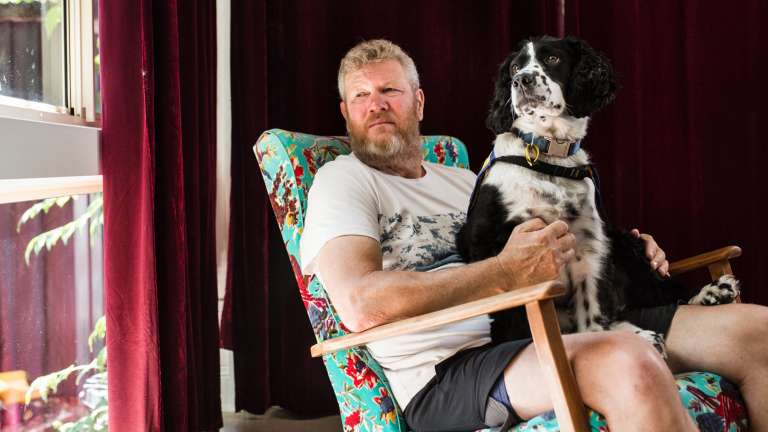 "I've been getting treatment ever since the incident. I've been on many different medications and different therapies, and I attended sessions in anxiety and depression courses," he said.
"But those treatments all have expiry dates."
Following a visit to hospital, Mr Brideson came across the idea of using an assistance dog to help manage his condition .
His border collie cross cocker spaniel Ted, who was only one-year-old at the time, was then trained as an assistance dog, to help monitor Mr Brideson's condition and symptoms.
"Ted was already step in step with me to begin with," Mr Brideson said.
"He was already aware of my moods and my anxieties and those sort of things. The training was about getting him up to speed in how to react when he was out and about with me."
After year of training Ted can now accompany Mr Brideson wherever he goes, as well as look out for signs that his owner is triggered by PTSD.
Ted also helps to wake up his owner if he sees him having night terrors.
"He's company and he's also my best friend. He's always looking to me to see if I'm ok," Mr Brideson said.
"Whenever I'm in a state, he will come and sit on me to grab my attention."
The former firefighter said having Ted as an assistance dog had made a huge difference in treating his post traumatic stress.
From next year there could be more people using assistance dogs as a treatment option for PTSD.
The Department of Veteran Affairs is set to conduct a four-year trial starting in 2018 on pairing assistance dogs with returned servicemen and women who have been diagnosed with the condition .
Expressions of interest for a service provider have already been lodged and a decision on who will conduct the trial is expected to be made in coming weeks.
The number of participants is yet to be announced.
A spokesman for the department said the trial would focus on the role assistance dogs play in the management of PTSD, which may influence policy on the mental health of veterans.
"DVA currently funds eight dogs for veterans with mobility and/or sensory impairments," the spokesman said.
"The evidence base for assistance dogs for mental health disabilities is less clear. DVA does not currently fund assistance dogs for mental health disabilities, hence the purpose of the trial."
The department spends $191 million on supporting the mental health of veterans.
Mr Brideson said having Ted as an assistance dog had greatly improved his mental health.
While he already had a bond with Ted as a puppy before he was trained to become a service dog, it is now even stronger.
"The bond has only strengthened, there's absolutely no question about it," he said.
"The bond only grows because of the nature of what the assistance dog is. It's mind blowing to what these dogs can do."
Andrew Brown is a journalist at the Sunday Canberra Times. Andrew has worked at the Canberra Times since 2016.