War Memorial offers behind the scenes look at female war artists
The Australian War Memorial brought some rarely seen WWII artwork to light for a special behind-the-scenes tour on Thursday.
The Girl Operatives tour was part of the Reality in Flames exhibition currently on display at the War Memorial but looked exclusively at Australian female war artists.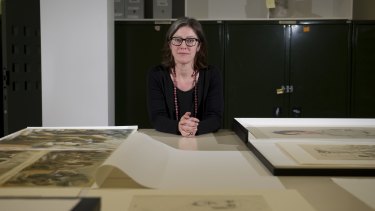 Bridie Macgillicuddy, assistant curator at the Australian War Memorial, led the talk and took people through to view the artworks not normally on display either because of limited space or because they do not fit with the current exhibition.
"Much of the collection doesn't necessarily fit into the historical narratives that are in the gallery so they fall through the cracks," Ms Macgillicuddy said.
"These public programs give us the opportunity to get those works out and show them to the public."
Viewers were taken into the storage room of the administration building where they could hear the stories of and view artwork by women war artists, such as Stella Bowen and Sheila Hawkins.
Stella Bowen was living in England when the war broke out and was commissioned to document Australian air crews as they were leaving for and returning from bombing raids over Germany.
"It was a very tense environment for her and [Royal Australian Air Force] bases were obviously target zones for bombing raids. So there was a certain degree of risk for her," Ms Macgillicuddy said.
Sheila Hawkins was also living in England when war erupted. She worked in the RAAF public relations department and was sent to Wales to work on secret records.
During two weeks' leave she went to a remote part of Scotland to document enlisted Australian soldiers who thought they would serve on the front lines but ended up felling trees in a secluded area of Britain.
"She was the only woman up there."
Her work captured the "strength and power" these men generated.
Asked whether there was a difference between the way male artists depicted the war compared to female artists, Ms Macgillicuddy was hesitant to make a distinction based on gender but said there did seem to be a greater focus on the individual by women artists.
"Only three of those 30 odd [official war artists] were women … so there's a bit of ratio discrepancy. But I think with the work we have of the three official women artists … there's very much a personal perspective in the kinds of work they produced."
"I think the women artists do offer us a much more intimate, a much more personal view of the war."