There was such universal joy and rapture in and around the Legislative Assembly at midday on Tuesday as the same-sex marriage legislation succeeded that one even half expected the usually scowling statue of Ethos (on the Assembly's doorstep) to be smiling for once.
But she was still scowling as, at her bronze feet, this reporter spoke to very happy girlfriends Samantha Lawson and Colette Discombe. They, with about 150 others, had just spent the morning's debate in the Assembly's crammed reception hall watching the debate on a huge screen. Had a very emotional Andrew Barr MLA actually shed tears as he spoke ("I said I wouldn't cry" he scoffed at himself as he all but broke his promise) they would have looked to us, on the screen, the size of rock melons.
Given that history was being made, those of us in the balloon-festooned reception room were surprising controlled. No speaker spoke in a rabble-rousing way (everyone read their speeches, without any thumping of tubs or waving of arms) and so our sleeping inner rabble was never woken up.
But the occasional thing said in a Labor MLA's speech was greeted with whoops and clapping, and agnostic-sounding Chief Minister Katy Gallagher's observation in her quietly sincere speech that "if what we're doing is going to be judged by a Higher Being then let it be so" was greeted with laughter and applause.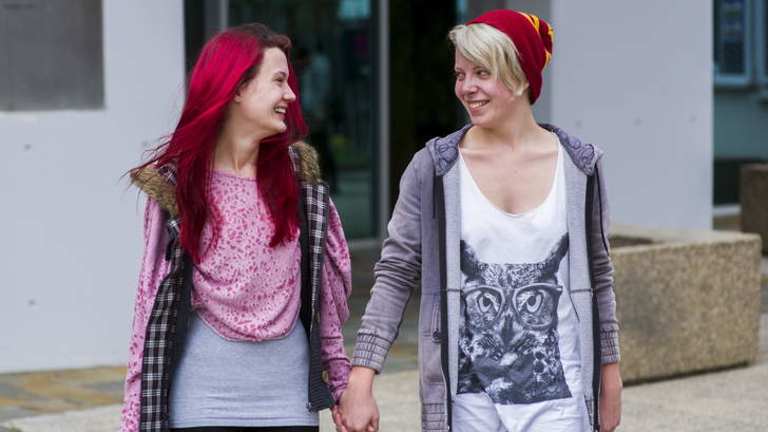 Journalistically one would have liked some openly contrary people in the room to add some colour and contrast but the only dissenter in the room, a middle-aged man sitting next to me as it happened, only dared give the occasional dissenting growl under his breath. He knew, perhaps, that he was in a room full of people who felt in their souls and bones the way MLA Mick Gentleman did when in his speech he said "I know I'm standing here on the right side of history."
Perhaps the dissenting growler knew that, in the context of that roomful of liberals all sure they were on the right side of history, if he'd spoken up he would have sounded as incongruous as someone speaking up against the abolition of slavery, against votes for women. Both of those triumphs cropped up again and again in Labor speeches in favour of same-sex marriage, as if they are all chips off the same humanitarian block.
After things in the chamber were resolved in favour of those of us on the right side of history, Samantha Lawson and Colette Discombe, holding hands, went outside and gathered at Ethos's big bronze feet for a cigarette. The scowl of the supportive Ethos was, one suddenly realised, for the Forces of Darkness (the federal government and the Liberals in the Assembly) whose determination to overturn the ACT's right-side-of-history decision was mentioned in many of the morning's speeches. That prospect hung over and hung above the sunny outcome like a cloud. Ethos, as befits her name and what she stands for, was cranky about that.
For the time being however the young women were very happy. They know that tomorrow belongs to them and that recognition of love like theirs, already (as pointed out in the speeches) a fact of life in nations as diverse as Iceland and Uruguay and even in nine states of the God-fearing United States, is inevitable. They agreed with all that had been said in the speeches about what pride we should take in our city being so pioneeringly open-minded a place. They felt that the achievement would even improve an already welcome level of tolerance here in this oasis of progressiveness.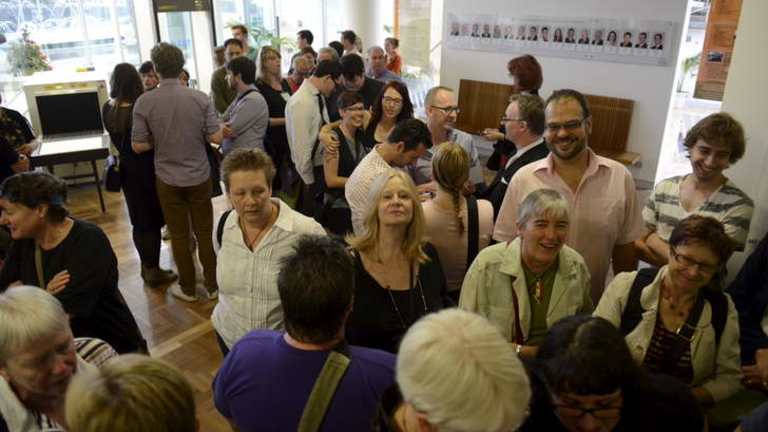 "Yes it [watching the speeches on the big screen] was really, really good and it was touching to watch so many of the Labor members being so emotional about it," Lawson rejoiced.
"I got a bit teary when Mr Barr started crying. I teared up as well," Discombe confessed.
Lawson was feeling quite proud about the ACT and thought "The ACT's always been very open to people's differences and very accepting. I've come from Queensland and so I can tell differences between acceptance there and here."
Discombe agreed and mused that "Here [in the ACT] I can happily walk down the street holding hands with my girlfriend and not get anyone yelling at me. I do get a few weird looks but I get smiles as well, and when I'm walking around the mall holding my girlfriend's hand that's very comforting. The whole world will be watching us [Canberra] now. It's very exciting."