156,000 Canberrans flock to Enlighten Night Noodle Markets 2015
More than 156,000 Canberrans visited the Night Noodle Markets eating their way through nearly 25,000 gyoza and 258kg of Nutella.
Who knew Canberrans were this keen for noodles, dumplings, and Asian barbecue skewers? The official tally for the Enlighten Night Noodle Markets has come in at 156,510 visitors over the 10 days of the festival.
And visitors managed to eat their way through nearly 25,000 gyoza and thousands of serves of pad thai, boat noodles, and noodle salads at 15 stalls on the lawns between Questacon and the High Court.
N2 Gelato's operations manager Jes Lau and her team went through 2500 litres of liquid nitrogen to make thousands of Nutella and Ferrero Rocher-flavoured gelato cups with injectable chocolate ganache.
Nutella was clearly a popular choice for desserts – Canberrans also managed to eat their way through 258 kilograms of the chocolate hazelnut spread at the Waffleland stall.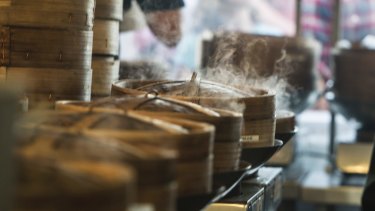 Brisbane gyoza merchants Zagyoza reported that they cooked and served up just under 25,000 handmade gyoza over 10 days.
The Night Noodle Markets were held in Canberra for the first time this year and attracted a bumper crowd of about 24,000 people on the opening Friday night.
The markets also proved a draw during the weeknights with crowds gathering to eat and take in the Enlighten art installations and night-time projections on the walls of Parliament, the National Gallery of Australia and other institutions.
The event's popularity was too much for some, leading to complaints of long queues and big crowds on the first few nights.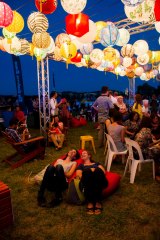 Chef Mork Ratanakosol, who owns Morks restaurant on the Kingston Foreshore, took part in the markets and dished out more than 2000 serves of boat noodles, a traditional Thai family recipe with beef brisket, tripe and spices. He described the markets as "tiring but fun" and said he would be back next year.
Jeff Piper and Justin Kavanagh, the owners of Thirst Wine Bar in Civic, also "dipped a toe in the water and fell in". They cooked up a similar number of coconut curry noodles and glass noodle salads with beef at their stall. "It was really buzzy and a good atmosphere – we're already thinking about different dishes that we could do next year," he said.
Another 16 restaurants also took part in Good Food Month presented by Citi, which runs until March 15 with special lunches, dinners and meal offers around Canberra.
Both Good Food Month and the Night Noodle Markets are run by Fairfax, publishers of The Canberra Times.
The ACT government invested $200,000 in the markets through tourism body VisitCanberra's special events fund.
Fairfax Events' head of food James Laing said the event had been very successful.
"Planning has already started for a bigger and better event in 2016 and we would love to see a bigger representation of stallholders from Canberra," he said.
"Hopefully now that local restaurants have seen how successful the inaugural Enlighten Night Noodle Markets were they will have the confidence to sign up for next year's event."