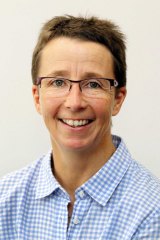 Amanda Beehag may have been short in stature, but the Canberra woman was a giant in many other ways, with a moral courage second to none.
Those were the words of Christine Brierley as she paid tribute to Ms Beehag, her friend of 36 years, who died on June 1 following injuries sustained in a crash with a marked police car in Kaleen on May 4.
The police officer involved in the crash has been suspended from duty and will be summoned to face court on a charge of culpable driving of a motor vehicle causing death.
Ms Brierley said Ms Beehag, 54, was a brave and fearless person who was never afraid to speak her mind and stand for the truth, even when it was to her own detriment.
"She was a loyal friend and acted with integrity," Ms Brierley said.
"She was a compassionate person who did the right thing by people even if she did not agree with them."
Ms Beehag was a sporting fanatic with a particular love of cricket.
She played grade cricket in NSW and England before becoming a widely respected coach and sporting administrator, with tributes flowing from some of the sport's leading figures, including former Australian women's cricket captain Lisa Sthalekar.
Affectionately known as "PJ", Ms Beehag also played softball and soccer, spending the last seven years as a key member of the Canberra Olympics Medusas masters soccer team.
Teammates said that despite being the second oldest member of the team, she was one of the fastest and fittest, and an inspiration to them all.
In recent years, Ms Beehag worked at the Australian Sports Anti-Doping Authority, Special Olympics Australia and the Australian Sports Commission.
In a statement, her family said she was a "spirited, yet gentle soul", who was passionate about sport and the people in it.
"From a young age, she had an unwavering commitment to her family, friends and work colleagues, and truly believed in the causes she supported," Ms Beehag's family said.
"We are humbled by her many friends who came from all facets of Amanda's well-travelled and eventful life to help us celebrate her.
"We take some strength in knowing the effect her compassion, wit, and loyalty has had on those around her.
"May she rest in peace, never forgotten, forever missed."
Lauren Camino, who worked with Ms Beehag at Special Olympics Australia, said her passion for sport had rubbed off on many people with disabilities.
She said Ms Beehag helped many athletes with disabilities fulfill lifelong dreams last year when she took Team Australia to the World Winter Games in Austria, in her final overseas trip with the organisation.
"Amanda was dedicated to improving the lives of people with disability through sport and had a positive impact on all of the athletes she met," Ms Camino said.
"She helped give athletes further resilience to strive to do their best and persevere to keep going."
Michelle Knights, a friend who played cricket and softball with Ms Beehag, said Ms Beehag loved a challenge and gave "110 per cent" to everything she did.
The pair played softball together at the World Masters Games in Turin in 2013, and tried to catch up every year at a Test cricket match.
They had hoped to attend a Test at each of Australia's major venues, and had made it to Brisbane, Sydney and Adelaide, visiting the latter for a Test four or five times in the past 10 years.
"Being able to combine sport and travel was a bonus as Amanda loved both," Ms Knights said.
Ms Beehag's family asked anyone wanting to pay tribute to make a donation to the Jane McGrath Foundation or the Salvation Army in her memory.
Blake Foden is a reporter at the Sunday Canberra Times. He has worked as a journalist in Australia, New Zealand and the UK.