ACT business looks to exports
Concerns over public service budget cuts and a possible change of government at the federal election are driving Canberra businesses to strengthen trade in exports, business leaders say.
Launching the 2013 ACT Chief Minister's Export Awards at the Australian National Mint on Wednesday, ACT Deputy Chief Minister Andrew Barr called on leading businesses to be recognised for taking Canberra's centenary year to the world.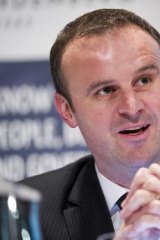 Mr Barr was joined by Aspen Medical managing director Glenn Keys and Mint chief executive officer Ross MacDiarmid.
Mr Keys said Aspen Medical's expanding export business had helped the company grow during difficult financial times.
"It is always important to have more than one source of business development and employment opportunities and, with budgets tight in Canberra, exports have helped us broaden our base for sustainable employment locally," he said.
"While it would help if we had an international flight now and then, [Canberra] is a great place with a broad skills base and close access to federal customers and easy access to Sydney and Melbourne."
Mr Keys said the company provided a range of healthcare solutions to countries in the Pacific region, south-east Asia, the US, the Middle East, and Britain.
The 50th anniversary awards presentation will be on September 26. Nominations for the awards close on August 15.
Tom McIlroy is a political reporter for The Australian Financial Review in the federal press gallery at Parliament House.