ACT police hoping for a safe night out
Paramedics and police have urged Canberrans welcoming in 2013 to drink responsibly.
Thousands of revellers are expected to pack Civic for New Year 's Eve celebrations on Monday night, with free entertainment and live music to start in Civic Square at 7pm.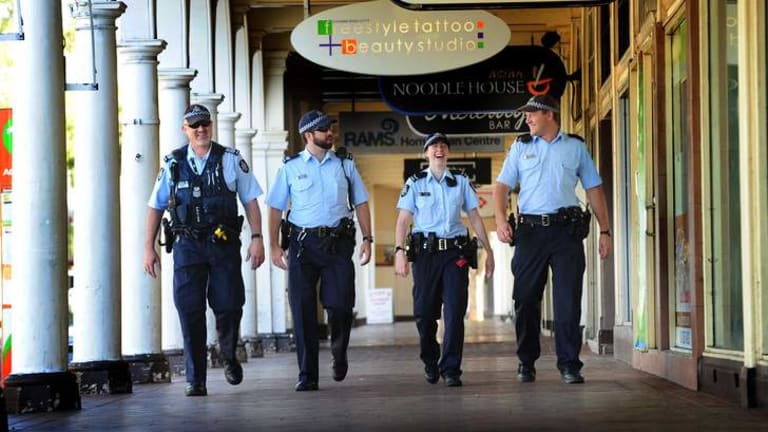 ACT Policing said officers would be looking out for anti-social behaviour and under-age drinking.
Related coverage:
A police spokesman said officers would patrol the alcohol exclusion zones and the alcohol-free events in Civic.
Police will also concentrate on road safety, with dedicated patrols testing drivers throughout Canberra.
Last year, more than 440 random breath tests caught five people.
''If you are going to drink tonight, don't drive as you will be caught,'' a spokesman said. ''Organise a designated driver instead, or catch a taxi or ACTION's Nightrider bus home.''
ACT Ambulance Service duty operations officer Mick McGrath said dehydration was likely to be the most common health risk for revellers, with warm weather predicted for Monday.
He said the service will be working with St John Ambulance personnel in Civic.
''We've also got for these sort of events additional medical equipment and, as you can expect with the warmer weather, we need lots of additional fluids and we've got recovery areas and resuscitation areas,'' he said.
Mr McGrath suggested alternating each alcoholic drink with a glass of water to avoid dizzy spells, fainting, nausea and headaches caused by dehydration.
He said hot weather could also make people more tired and less tolerant. ''Everyone's in the same boat, you might be tired, they might be tired too - just take it easy and then everyone can have a good time,'' he said.
ACT Policing encouraged parents to be aware of their teenagers' plans for the night.
The police spokesman urged parents to know how to contact their children and to call or message them during the night to check on their wellbeing.
The ACT government has scheduled a night of free entertainment in Civic.
Headline act Diesel will take the stage in Civic Square at 8.30pm for a one-hour set, punctuated by the 9pm fireworks display.
The early pyrotechnics signal the start of the Bass in the Place dance party, in Garema Place, with DJ Rawson, Timmy Trumpet and Chris Fraser in the line-up.
The night will peak with a second firework display at midnight.
Alcohol exclusion zones will be in force in Garema Place and Civic Square.
Several roads will be closed in and around Civic tonight.
London Circuit, between Akuna Street and Petrie Street, including Ainslie Avenue and the carpark on the corner of London Circuit and Constitution Avenue will be closed from 5pm to 2am.
Multiple intersections and traffic lights will be affected along Northbourne Avenue, from Cooyong Street to London Circuit during the 9pm and midnight fireworks displays.
ACTION buses will operate on a normal Monday timetable.
The Nightrider service will also be available from 12.30am for a $5 cash fare.
For more information, visit transport.act.gov.au
Morning & Afternoon Newsletter
Delivered Mon–Fri.