ACT primary schools fitted out with chilled water on tap for students
School students in every government primary school in the ACT now have access to chilled water on tap as part of an initiative to encourage water as the drink of choice.
With the phasing out of vending machines and the implementation of water refill stations, the ACT government hopes to reduce the obesity epidemic in Canberra's young population by providing healthier options in schools.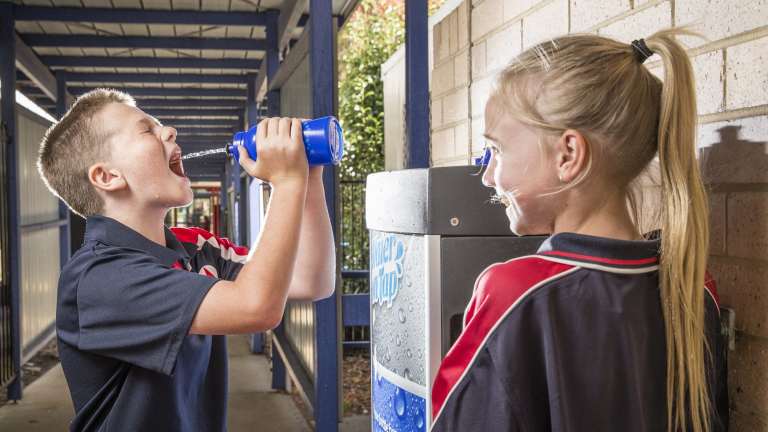 Students at Monash Primary School in Canberra's south said the water refill stations, of which the school has two, made it easy to fill up water bottles and cool down in summer.
Principal Shane Carpenter said the endless supply of cold, fresh water kept students engaged in learning.
"It keeps them hydrated and on task with their work," Mr Carpenter said.
"Bubblers are nowhere near as popular – these are kind of like the deluxe version."
Mr Carpenter said the school has had the water refill stations since the beginning of the year.
"When you first come back to school [after summer holidays] it is hard work because of the conditions. But this helps ... their engagement levels don't wilt."
Mr Carpenter said the water refill stations have proved much more hygienic than the existing bubblers. The students agreed, saying it made refilling their water bottles a whole lot easier. But despite having chilled water on tap, students said it had not resulted in an increased urge for water fights.
Minister for Education and Training Joy Burch said a minimum of two stations have been implemented in every government primary school across the ACT, at a cost of nearly $500,000.
"The initiative will reduce the consumption of sugary drinks and increase water intake," Ms Burch said.
"This is a positive step towards improving the health of Canberra students."
The water refill stations are part of the ACT government's Towards Zero Growth: Health Weight Action Plan which also included removing vending machines from Canberra public schools and phasing out the sale of sugary drinks in canteens.
Kimberley Le Lievre is the Editor of The Sunday Canberra Times