ACT wins at Australian VET training awards
Jenni Tarrant's secret to success is knowing that her customers want more than a haircut when they come into her salon. They want to be pampered, to be listened to, be treated with respect. Sure, the freshly baked treats, access to Netflix and blankets at the hair-washing basins help too, but at Bond Hair Religion, in Kingston's Green Square, it's all about a sense of community and belonging.
Ms Tarrant's holistic approach to her craft transfers to the way she treats her staff. The salon has recently been recognised at the Australian Training Awards in Darwin, winning the 2016 Small Employer of the Year national award last Friday.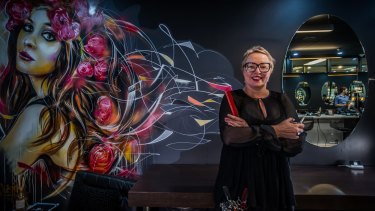 Tarrant employs five apprentices, in a staff of 12, a large percentage of juniors in an industry that is finding it increasingly hard to find juniors willing to take on the trade.
For Ms Tarrant the solution is not only focusing on building her business but her people as well.
"You can't put apprentices in a box and expect them to learn the same way," she says. "I try to identify how my juniors best learn, they might be at the Canberra Institute of Technology full-time, some might do a mix of training between the CIT and here in the salon. I try to make my training organic to suit the individual."
Ms Tarrant, who celebrated 12 years as the owner of the salon on Tuesday, has been hairdressing for 33 years. She left school at the end of year 10, devastating her teachers who wanted her to go on and study science.
"But hairdressing was my passion, and even back then it was frowned upon, leaving school to get a trade."
Ms Tarrant says many industries suffer from that very perception even now. At the training awards in Darwin she participated in a skills forum where the issue was addressed.
"How do we convince people that a trade, coming through the VET system, you're more likely to get a job? How do we change the perception of VET?"
Canberra's Shane Dealy is a prime example. He was named 2016 Australian Apprentice of the Year at the awards in Darwin. Mr Dealy begun studying engineering at university but after 18 months was not convinced it was the right path for him.
He enrolled at CIT to get a Certificate III in Carpentry. He is now working for local building company Algoa Holdings and has also completed a Certificate IV in Building and Construction.
Another Canberra business, the Academy of Interactive Entertainment was named as the 2016 Small Training Provider of the Year, recognising its excellent track record of placing its graduates into the gaming, animation and film industries.
Radford College student Madeline Wallace competed against 273 students nationwide to be named runner-up in the 2016 Australian School-based Apprenticeship of the Year category. Ms Wallace has completed two school-based apprenticeships in animal studies and business while also working at the Weston Creek Veterinary Hospital.
ACT Minister for Higher Education, Training and Research Meegan Fitzharris said the awards were a testament to the local VET sector and the people who work tirelessly to produce the best graduates in the country.
"Canberra prides itself on being the innovation and education capital of Australia and the ACT government is committed to ensuring the ACT has a high quality VET sector that delivers the best outcomes and graduates in the country."
Karen Hardy is a reporter at The Canberra Times.