Ahmadiyya Muslim Association could have mosque site as early as February
A Muslim community which withdrew plans to build a mosque in Canberra's south-west amid local opposition is on the verge of being offered a new site.
The Ahmadiyya​ Muslim Association's ACT branch has spent more than a year in limbo since parking, construction and vandalism concerns forced the organisation to cancel plans to build a mosque at the Rivett shops.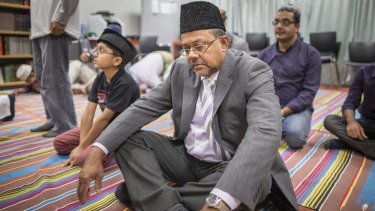 Its search for a new location could soon be at an end, however, with the ACT government preparing to re-examine sites suitable for the mosque.
Land Development Agency chief executive David Dawes said the government would "consider a potential new site for the Ahmadiyya Mosque early in the new year".
The Ahmadiyya ACT branch president, Mohammad Hasan, said the association had been in talks with the government about a new site, but could not disclose where the proposed land was situated.
He said the LDA was expected to get back to them sometime in February.
"We've been asked to do a new application, because the one we had prepared is four or five years old by now," he said.
The association initially bought land at the Rivett shopping centre in March 2014, but shop owner and resident concerns about parking in November of that year led it to abandon the site without submitting a development application.
After the Rivett plans fell through, the government flagged an industrial site at Hume in February last year, more than twice the size of the previous land, as an option for the association.
Four months later, the LDA advised against that site's suitability, leaving the association to try and hire other locations without success.
Mr Hasan said Ahmaddiya​ prayers were being conducted "with great difficulty" in an allocated room at the Griffin Centre
Friday prayers, the main weekly event for Ahmaddiya, tend to receive a maximum of between 110 and 120 worshippers, though Mr Hasan said that increased during the holiday period when children were home from school.
"Last week we had guests from Sydney and Queensland," he said.
"At the moment when we have a large number a lot of people have to go outside."
The Ahmadiyya community was founded in the late 19th century and introduced to Australia in 1980.
The community has stressed its goal has been to keep the wider public happy with the mosque site during its search for a suitable location.
Once a site has been identified, the mosque is planned to include space for at least 100 people, a library and a missionary house.
Stephen Jeffery is a producer at The Canberra Times