AIS childcare centre rated among the top in national rankings
A Canberra childcare centre that has achieved top billing in a new national ratings system says paying above-award wages to its staff is one of the secrets to its success.
The Caretaker's Cottage Childcare Centre at the Australian Institute of Sport is one of 22 early childcare services in the ACT that has so far been given the highest rating under the new National Quality Framework.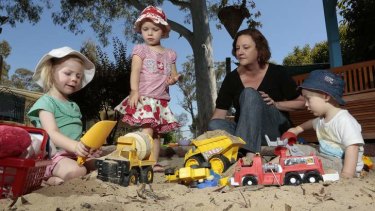 AIS centre manager Lisa Syrette said it had been very satisfying for the 48-place centre to receive the top rating.
''It's a validation of the hard work that the educators put in to providing a quality service and it helps us in being able to tell parents what we're doing and why that's important,'' she said.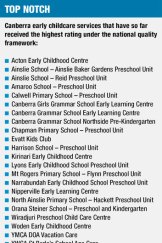 ''It will allow us to mentor other services, to be a leader in the field and raise the quality in the sector.''
Ms Syrette said one of the distinguishing factors for the centre was being able to attract and retain quality staff by paying above-award wages, having better conditions of service and better than required educator-to-child rations.
''The research would tell us that high-quality care comes from having high-quality educators and good staff-child ratios,'' she said. ''You can't have high-quality care without high-quality staff and you can't have high-quality educators without paying them the proper remuneration.''
Ms Syrette said there was also the balancing act of ensuring childcare was affordable.
''I think high-quality care is something that services have to provide and affordability is something that government has to address and I think they're doing that in the Productivity Commission inquiry,'' she said.
The ''exceeding national quality'' standard achieved by the AIS centre and 21 others in Canberra means they have come out top across seven key criteria: educational program and practice; children's health and safety; physical environment; staffing arrangements; relationships with children; collaborative partnerships with families and communities and leadership and service management.
There were no vacancies at the AIS centre, which operates as a commercial enterprise within the Australian Sports Commission and gives priority to commission staff. Its fees were $101 a day, with fees to be reviewed mid-year.
The new National Quality Framework is the result of an agreement between all Australian governments to improve the quality of long day care, preschool/kindergarten, family day care and outside school hours care services. They are assessed and rated in the ACT by the Education Department.
The independent national authority - the Australian Children's Education and Care Quality Authority - which is guiding the process, says as of December 20, there were 314 approved services for childcare in the ACT.
To date, 121 had been given a quality rating; 22 had achieved the top ''exceeding national quality'' standard; 77 had a ''working towards national quality'' standard rating; and 22 had a ''meeting national quality standard'' rating. None had received the lowest ''significant improvement required'' rating.