ARC funds Canberra universities research for $37m
The Australian National University has won more than $35 million in Australian Research Council grants for 90 projects ranging across physics to indigenous affairs.
The University of Canberra received $1.9 million for five projects ranging from investigating maths learning in schools and the threat of invasive plants.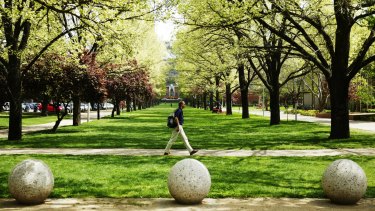 The ARC announced $354 million to fund 941 projects through four funding schemes on Wednesday.
The ANU had the highest success rate of 25.9 per cent for the Discovery Projects scheme, and the best success rate among the Group of Eight Universities for early career researcher awards, at 21.9 per cent.
ANU Deputy Vice-Chancellor (Research) Margaret Harding said the Discovery Program schemes were not only a key source of much-needed funding, but were recognised as highly prestigious grants for researchers and a measure of research quality.
The ANU was awarded 62 Discovery Projects and Two Discovery Indigenous Projects providing funding from three to five years. ANU also secured 23 Discovery Early Career Researcher Awards to support their best and brightest new academic talent for three years.
The two Discovery Indigenous proposals submitted by ANU were both successful, with the largest project to be led by Professor Mick Dodson, the Director of the National Centre for Indigenous Studies.
He will research "the prevalence of deficit discourse", which frames indigenous identity in a narrative of negativity and deficiency.
Professor Dodson's project was awarded $456,000 over three years.
Professor Chennupati Jagadish, from the Research School of Physics and Engineering, was awarded two successful projects worth $1.5 million.
The projects aim to develop a new photocatalyst for water splitting, for generating clean hydrogen as a new energy source. He also aims to develop a new class of semi-conductor nanotechnology for high efficiency solar cells, UV LEDs for solid-state lighting, and for water purification.
In social policy, Dr Ida Kubiszewski, from the Crawford School of Public Policy, was awarded more than $300,000 to research sustainable wellbeing in Australia, exploring the relationship between social, economic and environmental indicators and subjective wellbeing – all mapped to show local and regional factors.
The ARC also announced three ANU Linkage Infrastructure projects, including almost $1 million to build a new national electron microprobe facility that will be developed in partnership with University of Melbourne, Geoscience Australia, and three other universities.
The UC received five ARC grants, including four Discovery Project grants and a Discovery Early Career Researcher Award, worth more than $1.9 million dollars.
University of Canberra Centenary Professor Thomas Lowrie and colleagues received $428,484 to investigate how primary and secondary students process mathematics tasks in digital environments.
"Increasingly, students are required to solve problems in dynamic, interactive ways, often with the support of digital tools such as computers, smart phones and tablets. It is essential we understand the opportunities and challenges of students engaging in dynamic learning environments, especially with enhanced technology," Professor Lowrie said.
University of Canberra conservation biologist Richard Duncan was awarded $503,000 to learn more about the threat of invasive plants to native species.
"Weeds are one of the most costly and significant environmental threats in Australia so we aim to determine how weed species are able to invade into and dominate native plant communities. Understanding this process will provide the knowledge needed to better manage native vegetation in order to minimise the impact of current and future weeds," said Professor Duncan, from the University's Institute for Applied Ecology.
Centenary Professor John Dryzek from the Centre for Deliberative Democracy and Global Governanc and his team received $369,700 to analyse the communication between citizens and policy makers surrounding a controversial Australian topic – coal seam gas.
Peter Unmack, landscape geneticist at the University's IAE and colleagues were granted $344,600 to investigate the most abundant, widespread and biodiverse freshwater fishes in southeastern Australia: the carp gudgeons.
Dr Nicole Curato, a postdoctoral research fellow at the Institute for Governance and Policy Analysis received a Discovery Early Career Research Award worth $324,557 to examine how the "building back better" principle used when recovering from disasters can be applied not only to infrastructure but also to institutions of participatory governance.
Dr Curato will look at the 2013 Typhoon Haiyan in the Philippines case to develop an analytical toolkit that evaluates people's participation in post-disaster reconstruction.
University of Canberra Deputy Vice-Chancellor (Research) Professor Frances Shannon said: "We are delighted our colleagues have been recognised for their remarkable work, particularly in some of our areas of research strength, such as governance, education and environment."