ATAR results out as ACT Board of Senior Secondary Studies prepares review
As the last of the 2700 ACT year 12 students who studied for a tertiary entry statement this year receive their Australian Tertiary Admission Ranks, the Board of Senior Secondary Studies is preparing for a review of the year 12 qualification.
While many schools have already informed students of their results ahead of graduation ceremonies, all students can access their ATAR online from 9am Thursday via the University Admissions Centre.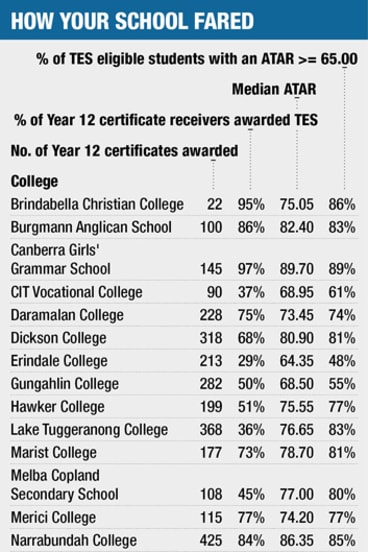 An analysis by the ACT Board of Senior Secondary Studies has shown a median ATAR of 77.85, with 77 per cent of eligible students receiving an ATAR greater than or equal to 65, the cut-off for general admission to a local university.
Nearly a quarter (23 per cent) of students received ATARs of 90 or above, and nearly half (45 per cent) had an ATAR of 80 or above.
Overall, 63 per cent of the 4283 students who received year 12 certificates received an ATAR as part of the tertiary package, with Canberra Girls Grammar achieving the highest median ATAR at 89.7, up from 85.9 last year.
Radford College was a close second with a mean rank of 87.4, down from 89.1 last year.
Trinity Christian School had the highest proportion of students achieve an ATAR of 65 or above, with 92 per cent of its eligible students meeting that benchmark. Radford College was again second with 91 per cent while Canberra Girls Grammar was third at 89 per cent.
Erindale was the lowest performing college, with a median ATAR score of 64.35. The college had only 29 per cent of its Year 12 Certificate achievers receive an ATAR, although 84 per cent were awarded a vocational qualification.
More than 58 per cent of the 4283 students awarded a Year 12 Certificate were awarded a vocational qualification, most commonly in tourism, hospitality and events.
But next year, the Board of Senior Secondary Studies will review the requirements for the ACT Year 12 Certificate, coinciding with the implementation of the new Australian Curriculum in English, mathematics, history and science.
''The level of literacy and numeracy amongst students leaving college has recently been the subject of concern for higher education institutions and employers Australia-wide,'' Rosemary Follett, chair of the Board, said.
''Higher education institutions have commented on the 'post-secondary literacy and numeracy gap'; employers have claimed that business is significantly affected by low levels of literacy and numeracy in the workforce.''
Ms Follett said the review will ensure the Year 12 Certificate continues to serve the functions required of a final senior secondary credential ''and compares favourably with similar credentials issued in other Australian states and internationally''.
Among the things to be considered in the review will be whether the study of English and mathematics should be made compulsory.
In 2013, 98 per cent of those who received a Year 12 Certificate studied English or English as a second language, with 91 per cent studying mathematics.
Now students know their ATARs, the Universities Admissions Centre has urged them to finalise their course preferences by January 4 in time for the main round of offers to be published on January 16.
The centre asked students to not discount their entry into a particular course if their ATAR was below the cut-off mark, as universities often awarded bonus points to individual students.
Bonus points could be allocated for subject relevance, through the Educational Access Schemes, or through being an in-area enrolment, the centre said.
Extracurricular achievements could also lead to acceptance for a place at university, even if the cut-off level was not reached.
Fleta Page is a journalist at the Sydney Morning Herald. She was previously a sports and general news reporter at The Canberra Times.